Amy Adams' Hair-Raising New Role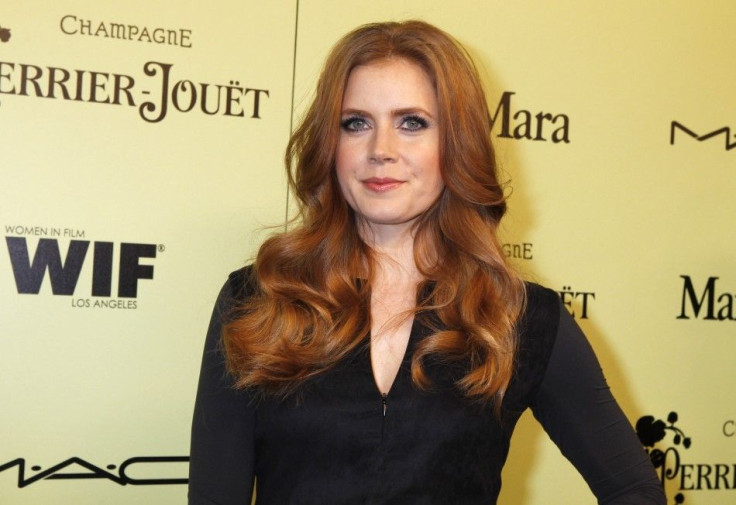 The enchanting Amy Adams ditched her usual glam apparel for more matronly clothing as the Baker's Wife on the opening night of Shakespeare in the Park's revival of Stephen Sondheim's "Into The Woods" at the Delacorte Theater in New York's Central Park on Thursday.
While Adams herself was a hit, critics weren't too keen on her bouffant, almost beehive-like coiffure.
For example, Ben Brantley, who reviewed the musical for the New York Times, described her unruly mane as a "furry tea cozy of a wig" and even a "handicap."
At least in a preview of the show, the Times' Charles McGrath kind enough to quote Chip Zien, who plays the Mysterious Man, as saying of Adams, "She has a really charming voice, and she's filled with a spunky warmth."
The fiery-haired beauty may be an ingenue to theatergoers, but she is no amateur. She has a background in musical theater and also landed the lead role in the 2007 fantasy-musical film, "Enchanted." She played Giselle, a naive princess who was cast out of fairy-tale land into the middle of New York's Times Square.
The character Giselle was so popular with little girls, a doll was created in her likeness. However, Adams herself did not receive a copy of the model. "They were sold out, and my boyfriend's niece wanted one for Christmas," she told "Dateline" on NBC. "So I got in a bidding war on eBay for my own doll. It was very bizarre."
The actress is considered one of the most stunning redheads in Hollywood, but that honor hasn't prevented her from experimenting with different hues.
"I am completely open to dying my hair for a role. Giselle, from 'Enchanted,' had blonde hair for a second. I am happy that Disney agreed with me that I looked much better as a redhead. I do, however, love wigs. There is so much freedom in wigs. When I dyed my hair true red for the first time, I felt as if it was what nature intended. I have been accused of being a bit of a spitfire, so in that way I absolutely live up to the stereotype. The red hair suited my personality. I was a terrible blonde."
Adams and her fiance Darren Le Gallo, welcomed daughter Aviana in May 2010. As shown by this shot in the Daily Mail, Aviana's a blonde!
© Copyright IBTimes 2023. All rights reserved.
FOLLOW MORE IBT NEWS ON THE BELOW CHANNELS