Android 4.4 KitKat Rumors: Will Google's Newest OS Debut On The Galaxy Note 3? Samsung May Announce Smartphone Antivirus Software At Unpacked Event
Samsung is expected to reveal its Galaxy Note 3 smartphone and Galaxy Gear smart watch on Wednesday at its Samsung Mobile Unpacked: Episode 2 event in Berlin. While a lot of information has leaked about the probable hardware of both Samsung devices, a new report reveals that Samsung may announce that its new Android-powered devices will come with antivirus software baked in.
According to The Wall Street Journal, Samsung will announce that all-new Samsung smartphones running Android software will come with security software from Lookout Inc. preinstalled. It isn't clear if this will be a part of the Samsung Mobile Unpacked event, or if the software will apply to the Galaxy Gear smart watch, but the timing makes sense.
Google announced the next version of the Android OS on Tuesday, nicknamed KitKat, though little information was made available outside of the name and a cross-promotion strategy with Nestle. Antivirus software could very well be a feature of Android 4.4 KitKat, but the software from Lookout is likely aimed toward business users rather than average consumers. Either way, the timing between the unveiling of Android 4.4 KitKat and Wednesday's Samsung event seems interesting to say the least, especially since Android 4.4 KitKat is likely to be a small but important update that could be related to device security.
Antivirus software could help Samsung get ahead of a growing problem for smartphones running on the Android mobile OS created by Google Inc.(
NASDAQ:GOOG
). In August,
a report found more than 718,000 known examples of malware
in the Android ecosystem. Furthermore, Android malware accounts for 79 percent of all known malware on mobile operating systems.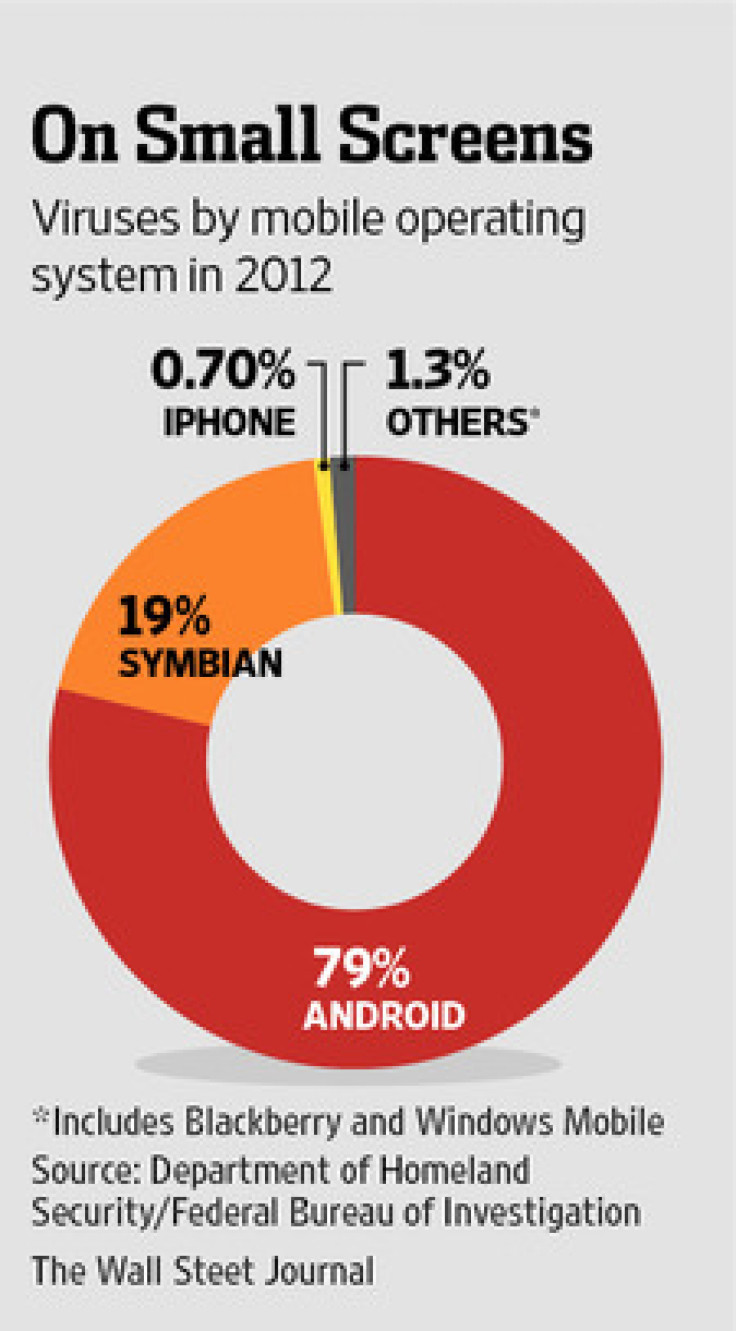 For comparison, malware on iOS devices from Apple Inc. (NASDAQ:AAPL) like the iPhone and iPad account for less than one percent of mobile malware. Samsung could be the first Android-based smartphone company to take a proactive step toward protecting users, giving Samsung another distinct advantage over other Android phones in competing against the iPhone.
The move also makes sense from a public relations perspective. In addition to the burgeoning amount of Android viruses, information from Edward Snowden about secret NSA surveillance programs like PRISM and Xkeyscore have people more concerned about privacy and security than ever before. Security software on new Samsung devices like the Galaxy Note 3 could be a selling point with many consumers.
Samsung recently introduced a feature that allows users to separate business data from the personal content like movie, music and games. The antivirus software from Lookout could just be an add-on to this feature.
Either way, Samsung is getting serious about security. There has been speculation that the Galaxy Note 3 could even feature fingerprint detection software.
You can watch a live stream of the Samsung Mobile Unpacked: Episode 2 event here.
© Copyright IBTimes 2023. All rights reserved.