Angelina Jolie, Brad Pitt Settle In London Amid Divorce Rumors, Jolie's Paranoia Over Pitt's Flirting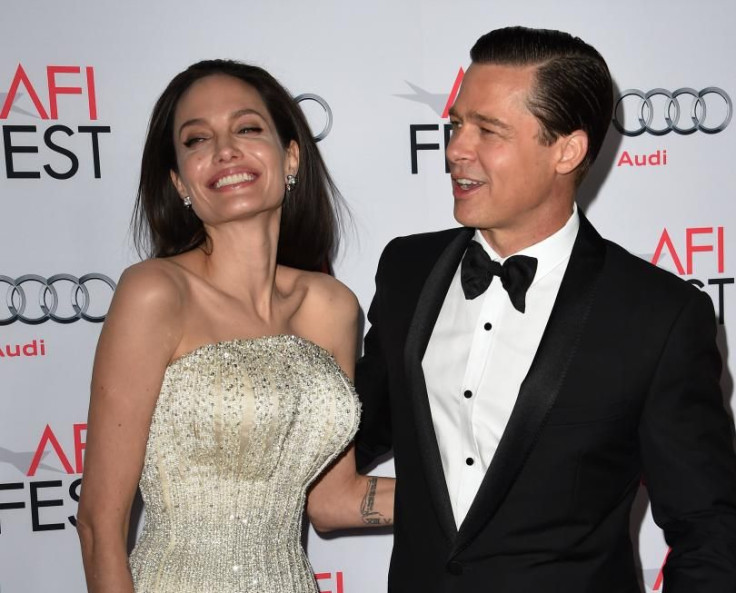 Amid rumors that Angelina Jolie and Brad Pitt are getting divorced, a new report claimed that the couple, along with their family, moved to a rental home in London at the end of February. The news comes amid rumors that Jolie fired one of her children's "gorgeous" nannies because she was caught flirting with the star's husband.
According to Us Weekly, Jolie and Pitt settled into an eight-bedroom, $21,000-a-month rental home in the London suburb Surrey, along with their children Maddox, 14, Pax, 12, Zahara, 11, Shiloh, 9, and twins Knox and Vivienne, 7.
The mansion, which has been described sources as a "beautiful, White House–style home," will have the family living there for at least six months as Pitt films the sequel to zombie blockbuster "World War Z," Us Weekly reported. Meanwhile, Jolie will be spending her time working on her humanitarian projects.
The children will reportedly enroll in The Lycée Français Charles de Gaulle school in London. This is not the first time the family will be living in London. In 2012, the couple rented the Whornes Place estate in London for $24,000 a month, while Jolie filmed "Maleficent" and Pitt worked on "The Counselor."
According to reports, Jolie and Pitt have been recently spotted spending time with their children in London despite rumors of tensions between the two.
Radar Online reported Thursday that Jolie fired one of their children's nannies after she spotted Pitt developing a close friendship with her.
"Her paranoia grew even further when she saw him fresh out of the shower wrapped in just a towel, getting some juice while the nanny was also in the kitchen with a big smile on her face. That was the final straw for Angie," a source told Radar Online. "She confronted the nanny and a huge screaming match erupted. Of course, she didn't hesitate to pull the trigger, and the nanny packed her things and was gone faster than you could imagine."
Pitt is not the only one who was surrounded with rumors of flirting, a report claimed earlier this month that Jolie was "flirting nonstop" with her husband's young look-alike cameraman. However, the couple has not responded to any of the rumors.
The National Enquirer claimed last month that Jolie and Pitt were on the verge of divorce over the 40-year-old's alleged sex and drugs "diary confessions." The report said that Pitt has been bothered by reminders of his wife's past problems, including "heroin binges" and "kinky sex games." However, Gossip Cop dismissed the report as false.
Another rumor surrounding Pitt was that the 52-year-old was moving into a bachelor pad in London without informing Jolie. A source reportedly told OK! Magazine that Pitt is secretly shopping for his own house in England without informing Jolie. "Brad's thinking time apart is exactly what they need," the insider reportedly said.
© Copyright IBTimes 2022. All rights reserved.
FOLLOW MORE IBT NEWS ON THE BELOW CHANNELS