Angelina Jolie Goes Shopping With Shiloh, Zahara After Jordan, France Trips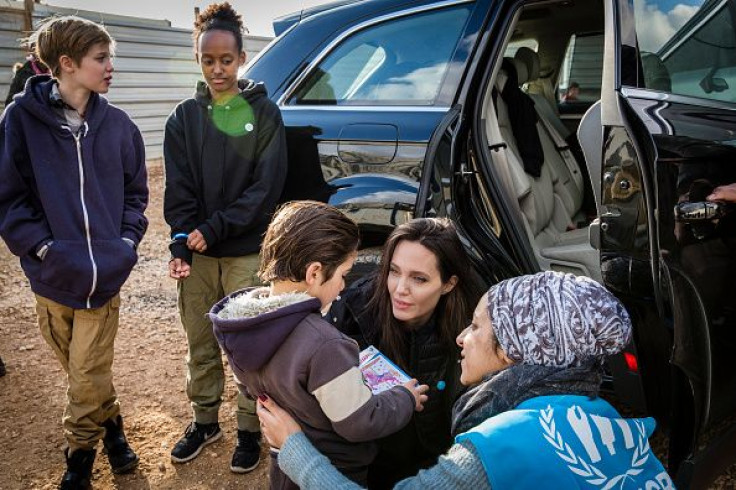 Angelina Jolie just returned to Los Angeles with her six children, and the doting mom immediately went shopping with her daughters.
Jolie was spotted shopping with Zahara, 13, and Shiloh, 11, on Friday. The "Maleficent" star is wearing a black thigh-high slit dress and a black jacket. She is holding a box of toy. Shiloh is wearing a red hoodie and baggy cargo pants. And mom and daughter duo were photographed smiling while holding each other's hands.
Another photo shows Shiloh and Zahara seemingly making fun of each other, while their mom looked on. Zahara is holding a Starbucks cup in her hand, and she is wearing a black Nike shirt and dark camouflage pants.
Jolie and her two daughters have been bonding with each other throughout the entire week. The trio first went to Jordan to meet up with Syrian refugees. While there, Shiloh and Zahara had the chance to talk and play with the young Syrian refugees.
After their short trip to Jordan, Jolie and her six kids flew to France. They went to Louvre and spent two hours there. Jolie also met up with French President Emmanuel Macron and First Lady Brigitte Macron.
Meanwhile, Jolie previously said that she loves bringing her kids along on her trips. While speaking with E! News, she said, "Whenever I go on humanitarian trips, they want to go with me. I never force them. I want them to respect people of diversity."
Last year, Jolie also gushed over her kids and called them "brave." While speaking with Vanity Fair, the 42-year-old actress said that all of her and Brad Pitt's kids are strong-minded and strong. She also said that she's proud of all of them.
Shiloh, Vivienne and Knox, 9, are Jolie and Pitt's only biological children. Maddox, 16, was adopted by Jolie from Cambodia. Pax, 15, was adopted by Jolie and Pitt from Vietnam, while Zahara was adopted from southern Ethiopia.
© Copyright IBTimes 2023. All rights reserved.