Angelina Jolie Says Her Piece On Russia's Invasion Of Ukraine
KEY POINTS
Angelina Jolie shared a series of gripping photos of Ukrainian children
She said the children would pay the highest price if the war continues
Jolie currently serves as a UNHCR Special Envoy
Angelina Jolie took to Instagram to share her thoughts on the ongoing war between Russia and Ukraine. Posting a series of moving photos of children in Ukraine on Tuesday, the "Eternals" star said children would pay the price if the war does not end.
"As well as the millions who've fled over Ukraine's borders, nearly 2 million people are displaced inside their country, many trapped by fighting, denied access to aid, and in direct physical danger," she wrote. "Without an end to the war, children will pay the highest price—in trauma, lost childhoods and shattered lives."
The mother-of-six ended her caption with a note urging her followers to learn more about the UN High Commissioner for Refugees and sharing the @refugees Instagram page.
The first in the carousel of photos shows a man and a woman holding their children while waiting for their turn to cross the river to flee Irpin, Ukraine. In the second photo, a teenage boy lies in a hospital bed in Kyiv after being injured in a Russian attack as his mother sits next to him. The last photo shows a child holding on to her dad as she battles cancer in the basement of the oncology center that's being used as a bomb shelter in Kyiv.
The 46-year-old also took the opportunity to call for compassion for Ukraine as Russia continues with its invasion of the country. "This week a million people were forced to flee the horrific war in Ukraine. If we learn anything from this shocking situation, it is that we cannot be selective about who deserves support and whose rights we defend," she wrote.
Jolie, who serves as a UNHCR Special Envoy, flew to Aden, Yemen last week in an effort to aid refugees from the ongoing civil war. Posting on Instagram a series of photos and videos from her visit, she wrote, "As we continue to watch the horrors unfolding in Ukraine, and call for an immediate end to the conflict and humanitarian access, I'm here in Yemen to support people who also desperately need peace."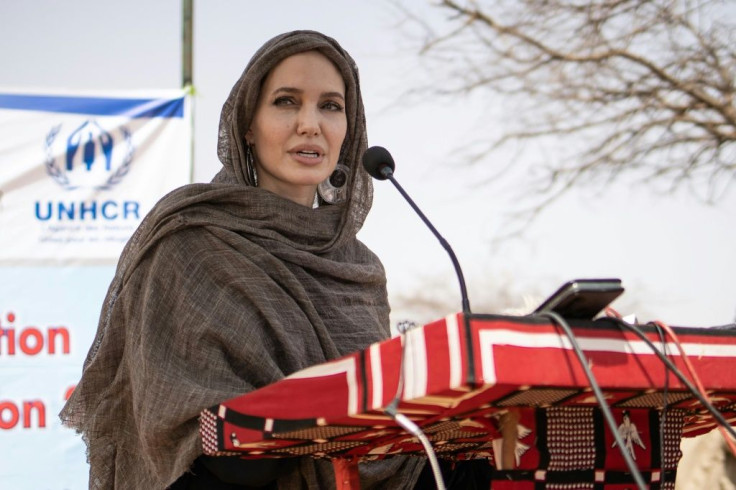 © Copyright IBTimes 2023. All rights reserved.