Angelina Jolie Talks About Louis Zamperini's Impact On Her Life At 'Unbroken' Premiere In Sydney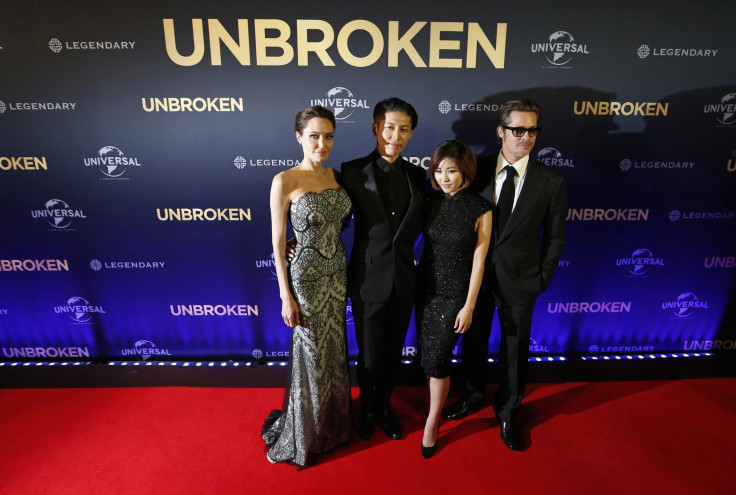 Angelina Jolie got emotional on the red carpet of "Unbroken" in Sydney on Sunday night as she spoke about Louis Zamperini and his impact on her life. The 39-year-old actress was accompanied by her husband, actor Brad Pitt, at the world premiere of the film.
"I think as a human being, as a mother, as someone who works internationally, I needed desperately to know a man like Louis Zamperini in my life, to know that there is hope," Jolie said, according to Reuters.
The film, which is the second directorial venture for Jolie, is based on Laura Hillenbrand's book about Zamperini's life. The Olympic sprinter met with a plane crash in the Pacific and was forced to spend nearly 47 days on a life raft. He later became a World War II prisoner of the Japanese for two years.
"The strength of a strong heart and an indomitable will is valuable and it's worth something," Jolie reportedly said. "We have to remember that and hold onto that because that's what will pull us through and it's what has always pulled people through dark times."
Jolie reportedly showed an early cut of the film to Zamperini before he died, in July, at the age of 97.
"What made me know it was right is he had an emotional reaction to it, to seeing his mother again, to seeing his brother, to remembering the races," Jolie told Seven Network. "And as a man of faith he was preparing himself to die and see them again. It was this gentle, beautiful, quiet moment ... I felt very privileged to be reflecting on his life."
Jack O'Connell, who plays Zamperini in the movie, was also present at the world premiere. "Angelina directed something that's very in keeping with the spirit of Louis," he told The Hollywood Reporter.
The biopic is scheduled to release in the U.S. on Dec. 25, but is expected to release in Australia next year.
© Copyright IBTimes 2023. All rights reserved.
FOLLOW MORE IBT NEWS ON THE BELOW CHANNELS