Animal Tourism: Thailand Bear Dies After Falling From Helicopter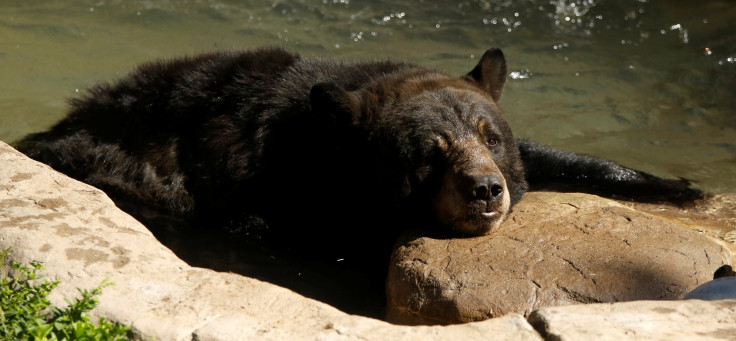 Officials were investigating a bear that died when it plunged from a helicopter in Thailand last month, the Independent reported Wednesday. The bear, which allegedly had been sedated, woke up in the middle of the trip and panicked once it saw itself swaying in a net attached to the helicopter, according to the Phuket Gazette.
Wildlife authorities were not sure how the Asian Black bear, weighing 175-pounds, found itself on the aircraft Feb. 11. The bear was found hanging over the jungle of Khao Yai National Park, according to the Bangkok Post.
"This never happened before. It's the first time a mistake like this happened," park official Wirat Chatuphon told Thai news site Khaosod.
He said the helicopter was flying in an inclement weather and quickly lost altitude. A local wildlife expert told the Phuket Gazette that relocating the young mammal wasn't the brightest idea. The net was also not secured.
"Asian black bears are social animals that need to stay with their packs. Flying the bear to a new location could end up with it being killed by other bears," said Thongchai Saengprathum, secretary of the Khao Yai Foundation.
Saengprathum said officials were also careless in calculating the weight of the bear to give the correct dose of tranquilizer to prevent it from waking up during the operation. "It should also have been put in a cage," Saengprathum said.
The secretary wanted officials to face a legal lawsuit, claiming the bear should have been driven closer to where it was found as opposed to being flown into another jungle away from its pack.
But officials said they had never had a problem with helicopters in the past or fatal bear incidents.
"We want the investigation to be conducted in a way to prevent such a thing happening again," said Chatuphon.
Thailand is known for its animal tourism featuring tigers, elephant rides and orangutan boxing. Animal rights activists call the attractions cruel.
© Copyright IBTimes 2023. All rights reserved.