Anker PowerHouse II 800 Review: Basically A Generator
This article uses affiliate links, which means if you purchase products through these links, we may earn a commission. Click here to see our
T&C
. For licensing please click
here
.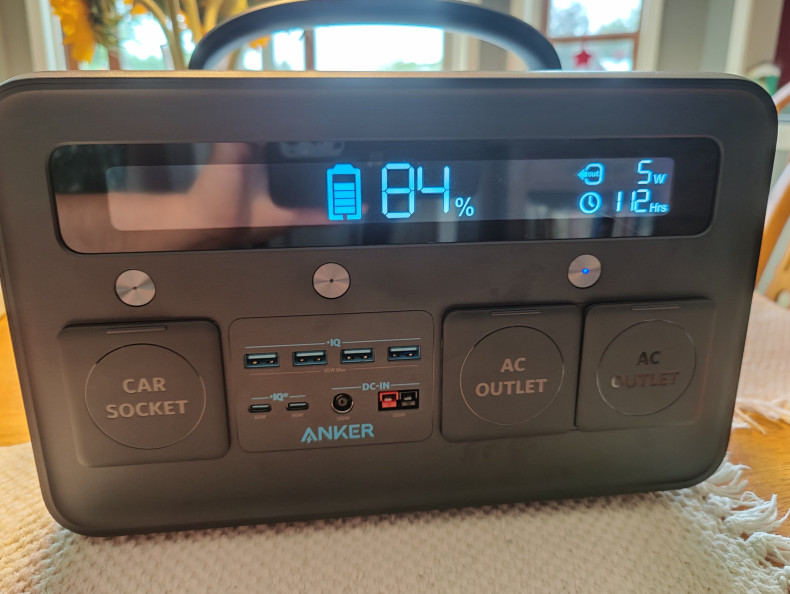 Who Is The Anker PowerHouse II 800 For?
The Anker PowerHouse II 800 is a beast of a portable power supply, packing in 777 watt-hours
The PowerHouse II 800 has four USB-A ports, two USB-C ports, two AC outlets, two DC outlets and one vehicle-grade outlet
This is the ultimate portable charger for camping or to have as emergency backup
We've looked at a few portable chargers here at International Business Times, but they were all designed with smartphones in mind. However, Anker has a portable charger that not only will charge a cell phone, it can run some pretty major equipment for several hours. The Anker PowerHouse II 800 is very big and heavy, but it truly lives up to its powerhouse name.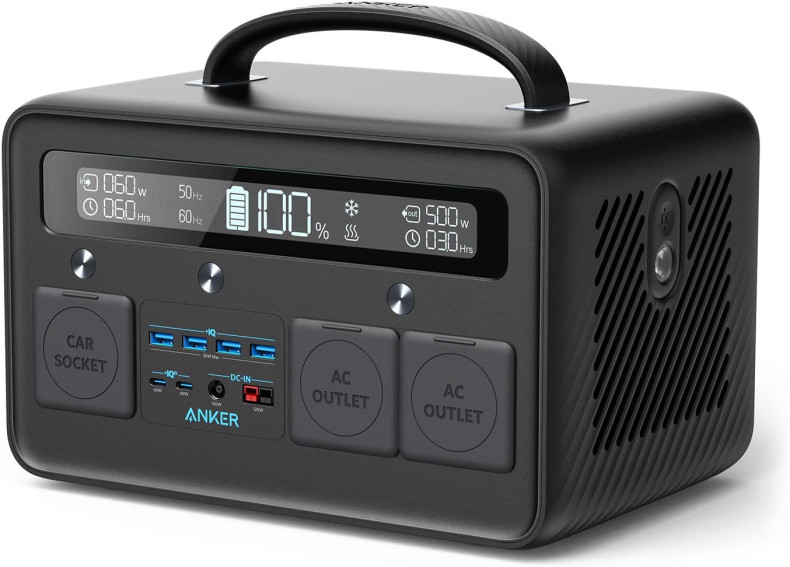 A Massive Brick
The Anker PowerHouse II 800 isn't a small device by any means. This big boy is about a foot wide, eight inches high and seven inches deep. That space is almost entirely taken up by batteries, which is reflected in the PowerHouse II 800's weight of over 18 pounds. While the PowerHouse II 800 is technically portable, this is not something that can be easily carried around all day.
That said, the PowerHouse II 800 is built to last. There's a very thick rubber handle on the top of the PowerHouse that makes carrying it easier, and that's about it. Three buttons on the front of the charger turn the device on and can toggle the vehicle-grade outlet and AC outlets on and off. There's also a bright LED screen on the front to provide information about how much power is currently being used with the PowerHouse II 800 and how much charge the PowerHouse has remaining.
The whole PowerHouse II 800 also screams durability. This was clearly designed to be used outside, and can likely take a beating. I wasn't exactly throwing the PowerHouse off cliffs during my review time, but expect it to be able to stand up to the challenge of a camping trip.
Despite all its outlets, the PowerHouse II 800 has a single input to charge itself back up. This does require a dedicated cable to charge the PowerHouse, but it is included with the device. Unfortunately, this means that the PowerHouse can't be charged with any other cable, so don't expect to be able to power this guy back up with just a USB cable. Charging also takes a few hours, but is quicker than I would expect it to be.
There is a second way to charge the PowerHouse II 800 that is more convenient for campers who may not be around electricity for extended periods, but it does require getting additional hardware. It is possible to hook solar panels up to the PowerHouse to recharge the battery. I wasn't provided with any solar panels to test this out myself, but it's a pretty neat feature and seems like something that would interest the hardcore campers out there.
Works Exactly As Expected
The Anker PowerHouse II 800 works exactly as expected, which is to say devices can be plugged into the PowerHouse, and they are provided the power they need to operate. Need to charge a cell phone? Simply plug in a USB-A or USB-C cable and you're good to go. Need to provide power to something larger like a laptop or even a CPAP machine? Simply press the button above the AC outlets to activate them and then plug in the device. It's all that easy.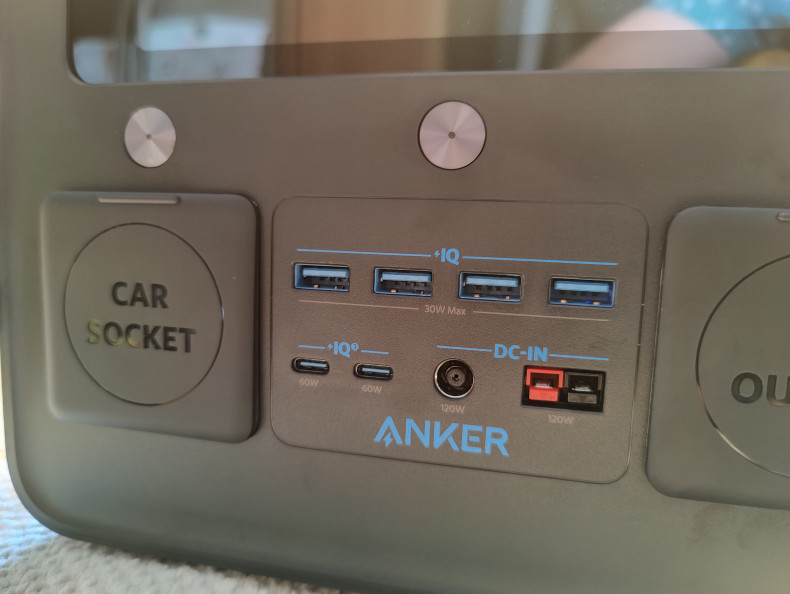 The USB ports are also designed to help speed up the recharging process. The USB-C ports can work up to 60W, allowing phones that have them to tap into their fast charging capabilities. The USB-A ports are no slouch either, with up to 30W each. That isn't going to break any recharge speeds, but will probably be quicker than most wall chargers.
What's really cool about using the PowerHouse II 800 is that the LED screen on the front provides real-time use data. When a device is plugged in, the screen will show how much wattage is being used. The screen also displays the percent charge remaining in the PowerHouse II 800, and even has a timer running to estimate how long the PowerHouse can run at the current watt output. If two devices are plugged in, naturally the wattage used goes up and the estimated time remaining drops. It's all very easy to understand, even if you're like me and don't have a degree in electronics.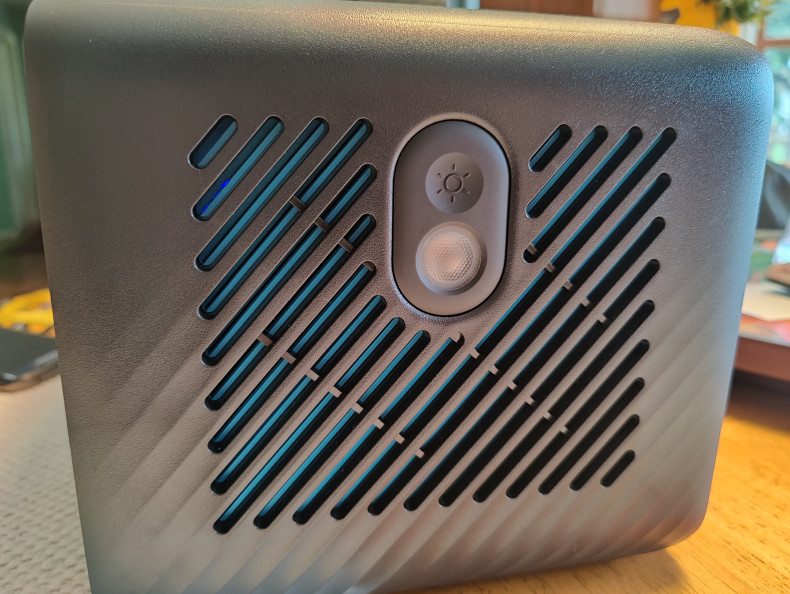 It should be noted that the PowerHouse II 800 isn't capable of powering every single device out there. The PowerHouse can only supply up to 500W, which covers most electronics, but does leave some major appliances out. Things like toasters, hair dryers, microwaves and electric vehicles all need more than 500W, so don't go plugging them into the PowerHouse. Any device under that 500W limit is good to go, including mini fridges, blenders, televisions and even some desktop computers.
A Few Bonus Features
The Anker PowerHouse II 800 has a few extra features that are pretty... illuminating. Sorry about the bad joke. No, I'm not that sorry, let's be honest.
There are two different lights built into the Anker PowerHouse II 800. The first is built on the short end, and has two different features. This light was designed to act like a flashlight, and provides a decent amount of light when needed. The downside here is that users will likely need to carry the PowerHouse around to really use the light as a flashlight, which is heavy and uncomfortable. The second feature for the flashlight light is the ability to blink in Morse code for SOS in an emergency situation.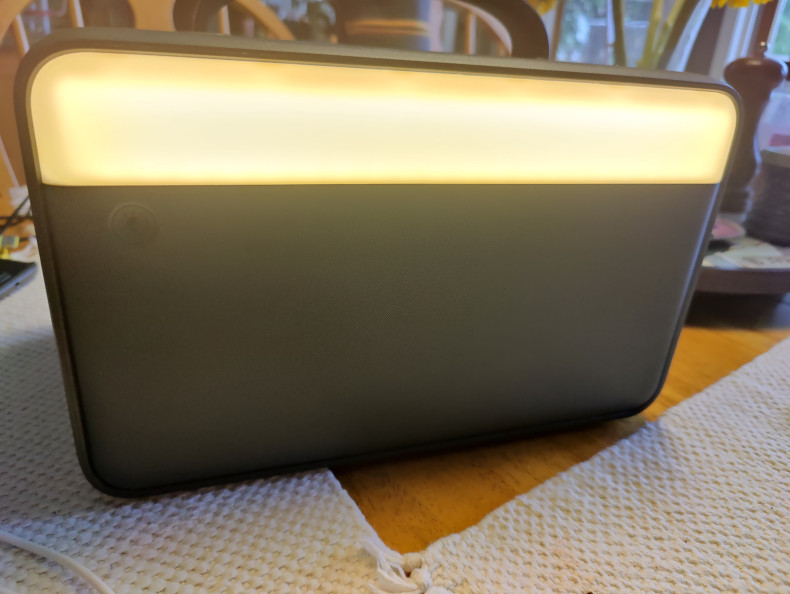 The second light is built onto the back of the PowerHouse II 800. This one is much softer and doesn't give off quite as much light as the flashlight, but is designed to be more of an ambient room light. This would be helpful to leave by the front door of a trailer when camping, or to light up a small room if the power goes out. This ambient light can only be turned on and off, and doesn't have any secondary modes.
A Big Price For A Big Battery
The Anker PowerHouse II 800 has a lot to offer, but that means it has a pretty hefty price tag. The PowerHouse II 800 is available right now on Amazon for $700, which is in no way inexpensive. While the PowerHouse is easy and convenient to use, that price may scare away some prospective buyers.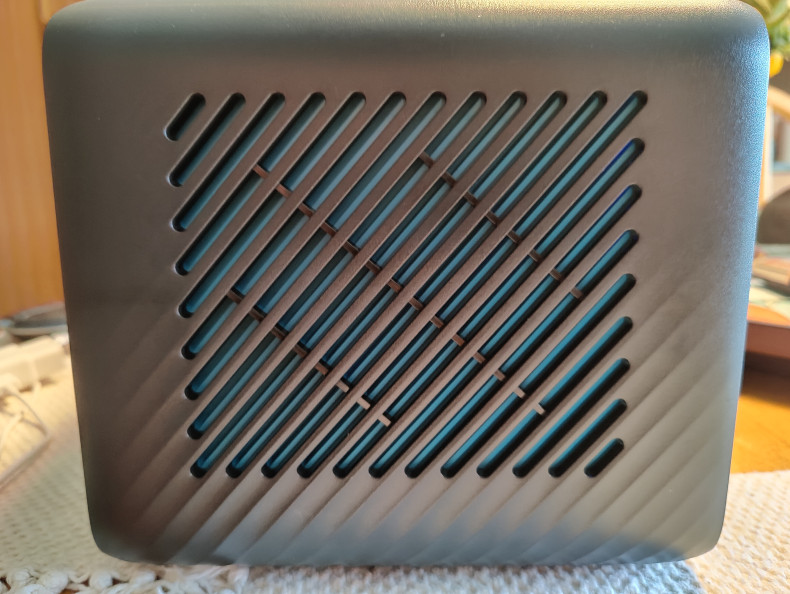 Those looking to get the PowerHouse II 800 should act quickly, as there is currently a coupon on Amazon to take 25 percent off the price. That's around $170 in savings. That still makes the PowerHouse expensive, but it's at least a more reasonable price.
Final Thoughts
The Anker PowerHouse II 800 is exactly that, a powerhouse. It's capable of providing enough power to charge a phone 55 times, making it great for a weekend at the campground. The fact that larger devices can be powered by the PowerHouse also means those who need a CPAP machine or other medical equipment can safely and comfortably sleep through the night outside of a house with a PowerHouse nearby.
Yes, the PowerHouse is heavy and expensive, but the massive battery makes it a clean and quiet alternative to a more traditional generator, and doesn't require gasoline or another source of fuel to run. If you find yourself needing electrical power while on the go, the PowerHouse II 800 is more than capable of helping out.
© Copyright IBTimes 2022. All rights reserved.