Anna Duggar Has Not Had Her Baby; '19 Kids And Counting' Family Shares Pregnancy Update, New Photo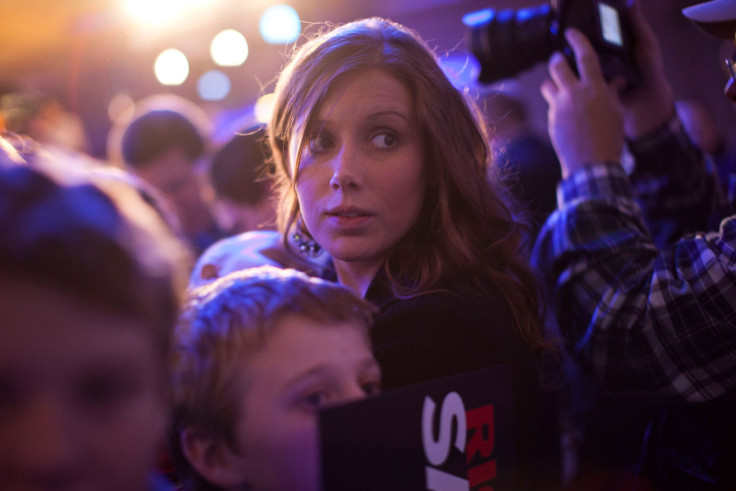 The newest member of the Duggar family is still cooking. Anna Duggar was due to deliver her fourth child on July 10, but according to the "19 Kids and Counting" clan, her baby girl is not ready to make her debut.
"Well, sweet Anna is now past her due date!" Jim Bob and Michelle Duggar posted to their Facebook page Sunday night. According to the four-time grandparents, this is the first time their 27-year-old daughter-in-law has past her due date. "First time she has every gone 'late' instead of early," wrote the couple.
The Duggars posted a new photo of Anna with the update. The image shows Anna holding her 9-month baby bump inside the Duggar home in Springdale, Arkansas. Jim Bob and Michelle's daughter Jessa, 22, is also in the shot holding her second trimester baby bump.
"Here she is with our Jessa," the family captioned the picture. "Be praying for these girls. Pretty soon we will get to kiss the sweet face of another Duggar grandbaby."
Jessa was the last member of the "19 Kids and Counting" family to share an update on Anna's pregnancy. Earlier this month she took to Facebook to tell fans she believes her in-law would deliver early. "She has gone a little early with all three so far, so we'll see if baby No. 4 will do the same!" she wrote.
Anna announced she was expecting her fourth baby with husband Josh Duggar, 27, in December 2014. The couple confirmed they were expecting a baby girl to join daughter Mackynzie, 5, and sons Michael, 4, and Marcus, 2, in March. They celebrated their gender reveal part with family and friends on an episode of TLC's "19 Kids and Counting" in May.
Anna and Josh's baby is not the only Duggar coming in 2015. Jessa is due to welcome her first child with husband Ben Seewald on Nov. 1. The date also marks their one-year wedding anniversary. Unlike Anna and Josh, the couple is choosing to keep their baby's gender a secret.
© Copyright IBTimes 2023. All rights reserved.