Anna Duggar Reveals Baby No. 4's Gender; '19 Kids And Counting' Star Is Having A...? [VIDEO]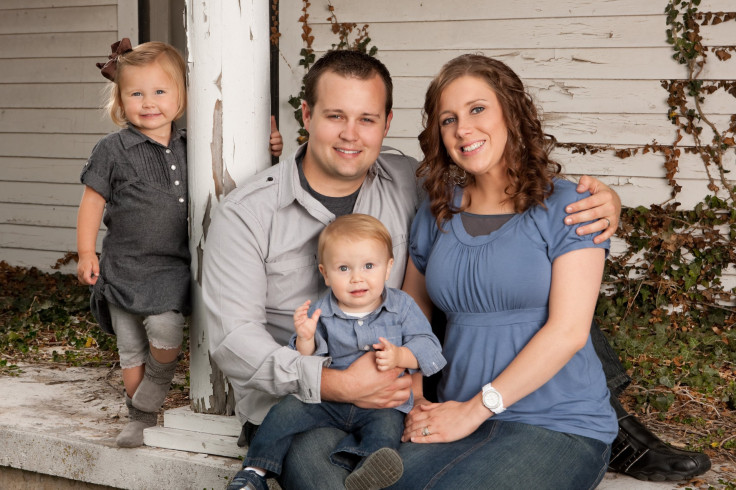 The Duggar family is about to get a little bit bigger. "19 Kids and Counting" stars Anna Duggar and her husband, Josh Duggar, are expecting their fourth child. Ahead of the reality star's summer due date, the couple revealed the gender of their new baby Monday.
So are they having a boy or a girl? In a gender reveal video on People.com, the couple used cupcakes — topped with yellow rubber duckies — to reveal the gender of their unborn child. The duo previously learned the child's sex off camera during an ultrasound, but waited to film the big reveal on camera.
"If it's pink inside, it's a girl. If it's blue inside, it's a boy," Anna explained.
After biting into a concoction from Georgetown Cupcake, Anna and Josh's three children, Mackynzie, 5, Michael, 3, and Marcus, 1, discovered they would be welcoming a sister to their brood of five. Josh and Anna was previously rumored to be expecting twins.
"It's a girl! Yay!" Anna, 26, said. "The pink frosting says it all."
"We're having a girl. And we're really excited and we can't wait," Josh, 26, added. "Thanks so much for all the well wishes."
As for the baby's name, the duo said they're not ready to share it with the world. "We are close to announcing the name, but haven't yet," Josh told People Magazine. As for it they will keep with the "M" theme, Josh teased they most likely will. "We are likely going down the same path, but we'll just have to see," he said.
The gender reveal video comes on the heels of Josh's recent tweet in which he stated that the Duggar family would be making a "big announcement" on Tuesday, March 3. It's unknown if the gender reveal was the big announcement, or if another Duggar family update is in the works.
Catch up with Josh, Anna and the rest of the Duggars on "19 Kids and Counting." New episodes air Tuesdays at 9 p.m. EST on TLC.
© Copyright IBTimes 2023. All rights reserved.