Another Nun Kills Herself: Self-Immolations Rise as Tibetan New Year Approaches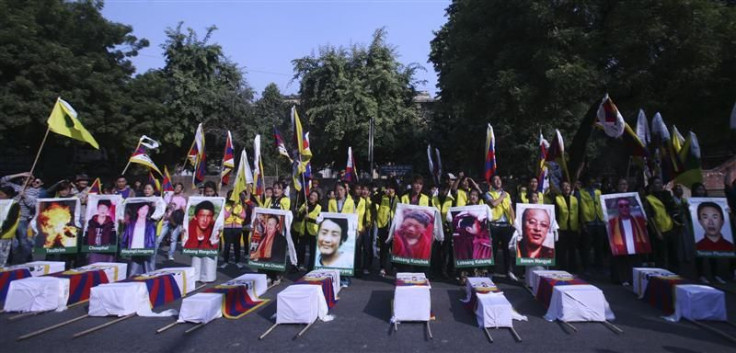 The long-simmering tension is reaching the boiling point as angry and frustrated Tibetans are preparing to observe their New Year on Feb.22.
Monks and nuns are killing themselves in protest across Tibet in alarming frequency even as the government security forces flood the streets around monasteries and nunneries and local people are intimidated with the use of lethal force.
On Sunday, exiled Tibetan organizations said an 18-year-old nun killed herself after dousing her body with kerosene and setting herself afire on a street near her nunnery.
According to Free Tibet, Tenzin Choedon, a nun at the Mamae Nunnery in the Aba prefecture of Sichuan province, set herself ablaze on Saturday. She died a day later, becoming the 18th Tibetan to commit self immolation in the last 10 months.
The ever-turbulent negotiations between the Chinese government and the Tibetans over the burning issue of Tibetan autonomy touched a new low after the violent Lhasa uprising of March 2008. The tenuous talks broke down in 2010, and have not been resumed.
As self immolations by people from religious orders are rising Chinese officials are ramping up efforts to suppress protests and black out news from the protest flash points.
The Guardian reported on Sunday that the authorities have blocked internet and mobile phone signals and erected checkpoints on roads to Aba prefecture in Sichuan, where the latest immolation took place.
The Chinese Communist Party bosses have sternly warned local security officials that any slip-up in containing the protests will have serious consequences. A few days ago, the party bosses sacked four local officials for alleged oversight in duty and accused them of endangering stability.
According to the Tibet Daily, local officials were told they must put all their efforts into maintaining a stable, unified social situation in our region in the run-up to the observance of the Tibetan New Year on Feb 22.
Though local security officials throng outside nunneries and monasteries and prevent pilgrims from staging violent protests, individual acts of self immolation continue to take place.
According to ABC News, the Mamae nunnery, to which Choedon belonged, has historically been in the forefront of the anti-Chinese protests. A 20-year-old nun from this order had immolated herself in October, while a group of nuns had participated in the anti-government protests in 2008, according to London-based International Campaign for Tibet, ABC reported.
Two exiled Tibetan monks told the Campaign officials that Choedon was the eldest of four children and a good student.
A couple of days back a monk in his 40s had killed himself by drinking kerosene and setting himself on fire. Buddhist monk Sonam Wangyal had set himself on fire in front of a police station in Darlag county in Qinghai province, a spokesman for the Central Tibetan Administration told Reuters.
China has routinely termed immolation, a hugely popular form of protest by the champions of Tibetan self rule, as an act of terror and accused the Dalai Lama of fomenting violence in the region. China says the Lama, who has been in exile in India for half-a-century, is splittist while the spiritual leader says he is calling only for autonomy for Tibet.
Chinese troops entered and occupied Tibet in 1950, but according to the official Chinese version, Tibet had been part of the country for centuries. Tibetans have always insisted that their region had been self-ruled for most part of history till the Chinese occupation, and want that status back.
© Copyright IBTimes 2023. All rights reserved.