The Anti-Inauguration 2017: How To Participate In Donald Trump Protests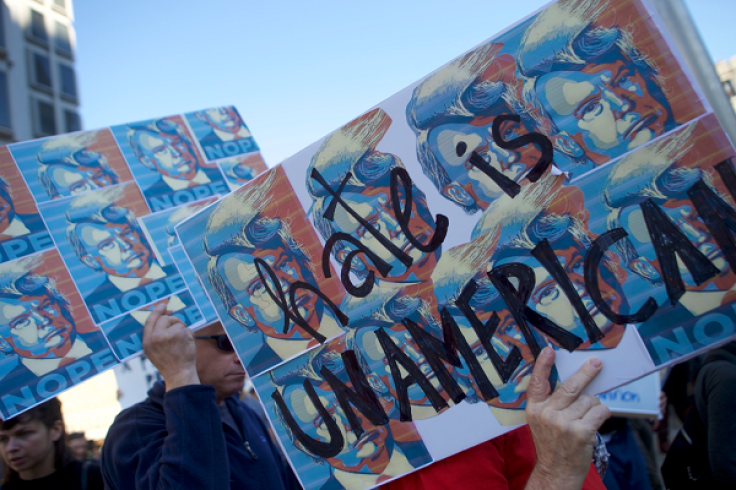 Millions of U.S. citizens are expected to attend President-elect Donald Trump's inauguration on Jan. 20. However, not everyone attending Trump's swearing-in ceremony will be there to support the new president as several protests against the real estate mogul have been planned in Washington, D.C. on that same day. What's more, thousands of people who can't make it to the District on Inauguration Day are reportedly planning to attend protests against Trump in their local areas.
Read on to find out how to exercise First Amendment rights and protest Trump's presidency below.
Protests to join in D.C.: There are several peaceful protests planned during Trump's inauguration. The Women's March on Washington is expecting roughly 200,000 protesters to march from the Lincoln Memorial to the White House on Jan. 21, the ANSWER Coalition's Inauguration Day protest is expecting 10,000 people to fight racism and Trump's immigration policy at Freedom Plaza and the DC Cannabis Coalition's Trump420 march will support federal approval of marijuana. There are smaller protests taking place around the city that have not yet been given protest permits, which can be easily found by searching Facebook event pages in D.C.
Find a protest to join outside of D.C.: There are tons of protests taking place throughout the U.S. during Trump's inaugural ceremony. In California, March and Rally Los Angeles will host the United against Hate Anti-Trump Inauguration March in downtown L.A., which 12,000 people are expected to attend, while a Not My President protest is slated to start at 5 p.m. in Sacramento. In Chicago, more than 6,000 people are expected to attend a sitting protest in front of Trump International Hotel and Tower. The Women's March on Washington is also slated spill over into New York City, with thousands of people planning to march at Trump Tower in Manhattan on Jan. 21, and several other cities across the U.S.
Donate: For those unable to participate in a protest but still want to support a cause, many groups are accepting monetary donations to help fund their efforts. Some organization still need help providing transportation, shelter and supplies for people planning to attend protests in the nation's capital and other areas throughout the U.S., and a donation could go a long way in helping groups get the most participation for their causes.
Volunteer: If traveling isn't an option but free time is available, people can spend a few hours volunteering at local organizations, agencies and non-profit groups fighting for causes that may be directly affected by Trump's incoming policy – and there are plenty of them from immigration to race relations and women's rights. Search for local organizations and get involved.
Write to representatives: One of the best ways to protest Trump and support issues that could be adversely affected by his policy is by writing to local government reps. Send letters or emails requesting representatives take the necessary action and do all they can to prevent legislation that could have serious effects on societal concerns. After all, representatives are put into office because of the voters, so speak up on the causes that are of most concern. To find a local rep, check HERE.
© Copyright IBTimes 2022. All rights reserved.
FOLLOW MORE IBT NEWS ON THE BELOW CHANNELS