Anti-Trump Protests: 5 Shot In Downtown Seattle Near Demonstrations Against President-Elect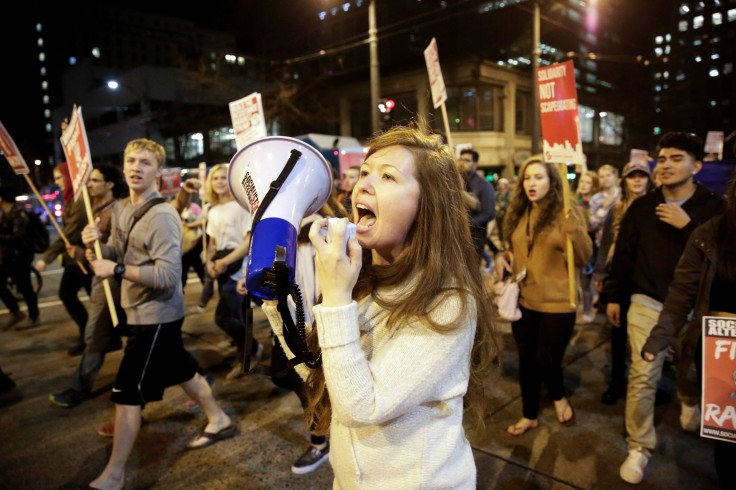 UPDATE: 12:45 a.m. EST —The parts of the street cordoned off for investigation into the shooting near an anti-Trump rally Wednesday night have now been reopened to the public, the Seattle police said on Twitter.
Original story:
As people take to the streets to protest Republican nominee Donald Trump's election as the president of the United States, five people were shot outside a convenience store in downtown Seattle, near an anti-Trump rally Wednesday night, police said.
Local police said gunshots were reported a little before 7 p.m. (10 p.m. EST) outside a 7-Eleven store on Third Avenue between Pike and Pine streets, at a major bus stop after witnesses said they saw a group of people arguing. The shooter, who is still at large, began to walk away before turning around and firing at the crowd.
According to Seattle police Assistant Chief Robert Merner, at least one of the victims of the shooting was a bystander. One of the victims has life-threatening injuries and all of the victims — four males and one female — have been taken to Harborview Medical Center, he added.
"It's not related to the protest at all," Seattle Police assistant chief Robert Merner said at a press conference, denying any links to the anti-Trump demonstrations in the city. "It appears to be some type of personal argument."
The rally protesting Trump's election reportedly started only a few blocks from the location of the shooting and was proceeding along nearby streets at the time of the shooting.
Seattle Times reported Sharon Keith, manager of the 7-Eleven, as saying that she heard a loud noise and locked the doors after telling everyone in the store to get down. On looking outside, she said: "I saw multiple people down, bleeding."
On its Twitter account, the Seattle police said that the area has been cordoned off for investigation.
© Copyright IBTimes 2023. All rights reserved.