Anti-Trump Protests Update: Several Refuse To Accept President-Elect As Demonstrations Enter Fifth Day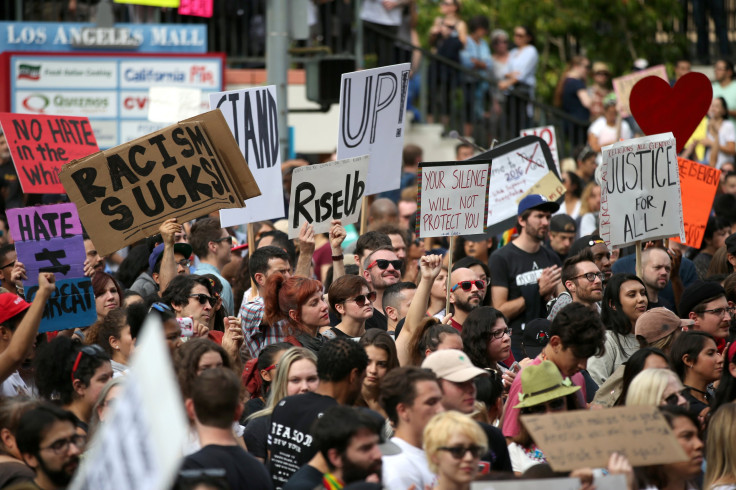 Demonstrators in various cities across the country took to the street for the fifth day on Sunday to protest the election of Republican Donald Trump as president of the United States. Demonstrations broke out in major cities in New York, California, Oregon and Pennsylvania.
Sunday's protests were relatively peaceful in contrast to protests in Portland, Oregon, on Saturday where 71 people were arrested during an "unpermitted march." Friday also witnessed 17 arrests in Portland and the arrest of 187 adults and eight juveniles in Los Angeles.
Protesters grew violent in Oregon on Saturday with demonstrators reportedly shouting, "Kill the police," as officers used tear gas to disperse the crowd. But on Sunday, protesters gathered in Portland's Waterfront Park to peacefully protest President-Elect Trump. Meanwhile, another group of protesters began a march in the city chanting, "Not my president." Authorities warned demonstrators of arrests if demonstrations turn violent.
Meanwhile, as Trump was speaking on "60 Minutes," thousands of people gathered outside his Manhattan home declaring that he was "not my president." They walked down Sixth Avenue and then returned outside the Trump Tower.
One of the protesters, Lizzy Lovinger, who identified herself as a queer woman, told NBCNews: "I think this is a really promising show of support for women, people of color, immigrants, Muslims, and for survivors of violence, and I think it is important to be here and be part of that support."
Immigrants also joined the Manhattan demonstrations with several people protesting the president-elect's deportation plans. Protesters held signs in English and Spanish, which reportedly read, "Hate won't make us great," and chanted, "We are here to stay."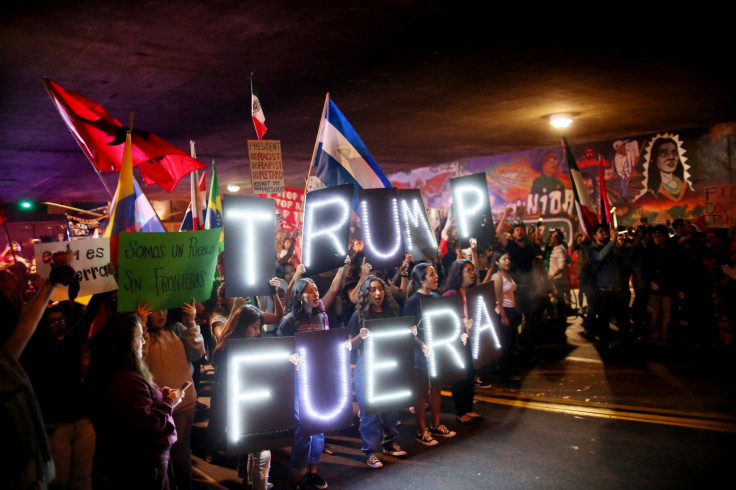 Los Angeles witnessed its biggest anti-Trump protest Saturday when close to 8,000 people, according to the police, marched through downtown L.A. "exercising their 1st Amendment Right. No arrests have been made." On Sunday, a few hundreds gathered outside CNN's Los Angeles bureau and in San Francisco, hundreds marched from Golden Gate Park to Ocean beach shouting, "Love trumps hate."
Hundreds of protesters reportedly marched around Philadelphia's City Hall and then down Market Street to Independence Mall on Sunday chanting, "Donald Trump has got to go" and "This is what democracy looks like."
Trump previously tweeted about the protests, blaming the media for inciting these demonstrations. Trump's Campaign Manager Kellyanne Conway said Sunday that President Barack Obama and former Secretary of State Hillary Clinton should do more to ensure the peaceful transition of power. She also suggested that many of the protesters were paid professionals but offered no evidence.
She reportedly told NBC's "Meet the Press" that if Clinton had won the election and Trump supporters had protested, "people would be freaking out that his supporters were not accepting election results. It's time really for President Obama and Secretary Clinton to say to these protesters: 'This man is our president'."
© Copyright IBTimes 2023. All rights reserved.
FOLLOW MORE IBT NEWS ON THE BELOW CHANNELS