'Aoashi' Episode 2 Live Stream Details: How To Watch Online, Spoilers
KEY POINTS
"Aoashi" Episode 2 is airing Saturday
The episode will stream on Crunchyroll
The series is based on the original story by Yugo Kobayashi
Ashito, who was invited for tryouts by Fukuda, heads to Tokyo alone in "Aoashi" Episode 2. The new episode is titled "Tokyo City Esperion."
The official website has released the synopsis and spoiler stills of Episode 2. Upon reaching Tokyo, Ashito is mesmerized by Esperion's soccer facilities. Ashito is grateful to his brother, Shun, who financially helped him.
Back in Tokyo, Ashito meets Ichijo Hana, Fukuda's sister-in-law. She guides him to the venue. A total of 86 participants are trying out to be part of Tokyo City Esperion.
Ashito is ready to give his all to the tryouts as he shakes hands with other participants.
In the previous episode, Ashito met a mysterious man who happened to coach a team in Tokyo. He wanted Ashito to come to Tokyo and give the tryouts a shot.
"Aoi Ashito is an ace of a weak soccer team at a junior high school in Ehime. His play almost gets the team to the semi-final in his last tournament in junior high, but provoked by the opponent's goalie, Ashito receives a red card and is removed from the game," the official synopsis of "Aoashi" Episode 1 read, as per Crunchyroll.
"While Ashito is running on the beach to forget the frustration, mysterious Fukuda Tatsuya, who calls himself the manager of Tokyo City Esperion Youth team, approaches Ashito," it continued.
The cast of the anime includes Junya Enoki as Yuma Motoki, Kentaro Kumagai as Ryuichi Takeshima, Kouki Ohsuzu as Ashito Aoi, Seiichiro Yamashita as Soichiro Tachibana, Shun Horie as Kanpei Kuroda, Taku Yashiro as Keiji Togashi, Tatsumaru Tachibana as Eisaku Ōtomo, Wataru Katō as Martis Jun Asari, Makoto Furukawa as Eita Takasugi, Mie Sonozaki as Noriko Aoi, Mikako Komatsu as Aoi Kaneko, Reina Ueda as Anri Kaidō, Shunsuke Takeuchi as Nagisa Akutsu, Yoshiki Nakajima as Shun Aoi and Yuichiro Umehara as Haruhisa Kuribayashi.
The anime is based on the original work by creator Yugo Kobayashi.
"Aoashi" Episode 2 is scheduled for release Saturday. Fans in the U.S. can watch the episode on Crunchyroll. The episode will stream in Japanese with English subtitles.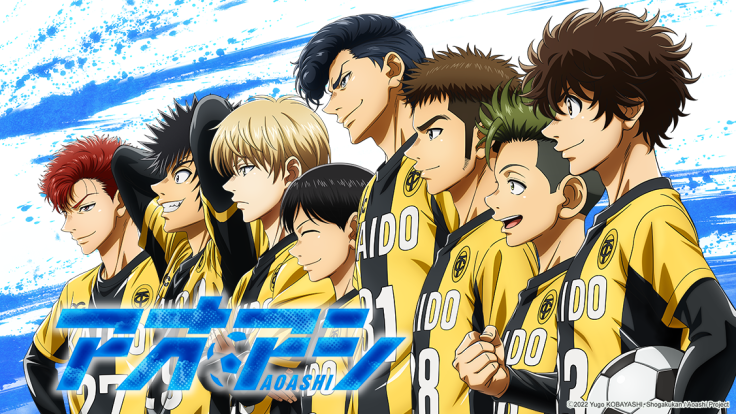 © Copyright IBTimes 2023. All rights reserved.