AOC Primary Opponent Getting Big Boost From Wealthy Trump Donors
KEY POINTS
AOC opponent Michelle Caruso-Cabrera recieved money from wealthy Trump backers
All four men gave maxiumum $5,600 to Caruso-Cabrera's campaign
Caruso-Cabrera's economic platform is more favorable to Wall Street, big business
Rising Democratic Party star Rep. Alexandria Ocasio-Cortez is facing a primary from within her party this month, and her top opponent is getting major help from a seemingly unlikely source: Wealthy supporters of President Donald Trump.
Ocasio-Cortez' primary rival, former CNBC anchor Michelle Caruso-Cabrera, has taken in thousands in campaign funds from a number of wealthy individuals who had given large amounts of money to Trump-related groups.
These donors include Walter Buckley, a venture capitalist, who gave $5,600 – the maximum legal amount – to Caruso-Cabrera's campaign. Buckley had previously given $1.1 million to pro-Trump organizations.
Broadcaster Stanley Hubbard, venture capitalist Darren Blanton and financier Nelson Patz have all given the maximum of $5,600 to Caruso-Cabrera as well; in the past, all three men had made massive donations to Trump groups.
This isn't terribly surprising, though, given Caruso-Cabrera's platform. She has positioned herself as the pro-business, Wall Street-friendly alternative to Ocasio-Cortez, attacking the incumbent for her opposition to the relocation of Amazon's headquarters to New York City and for her stance on taxing wealthy residents.
Although Caruso-Cabrera is running as a Democrat, her platform aligns much more closely to Republicans' – the wealthy Republicans donating to her campaign no doubt realize that she would be a favorable replacement for Ocasio-Cortez, given that a Republican is highly unlikely to claim the seat.
In a recent debate, Caruso-Cabrera criticized the congresswoman for failing to vote in favor of the coronavirus relief bill, known as the CARES Act.
Ocasio-Cortez defended her vote, arguing that the bill included "half a trillion in Wall Street giveaways" and said that she had supported an alternative bill, the HEROES Act.
No doubt the revelation that her opponent is taking money from wealthy Trump supporters will give further ammunition to Ocasio-Cortez, who has referred to Caruso-Cabrera's Wall Street donors as "reprehensible support."
Activist and community leader Badrun Kahn is also running in the primary for the 14th congressional district, though her campaign has raised far less than the other candidates.
New York voters will be voting in their primaries on June 23. Early absentee voting begins this weekend.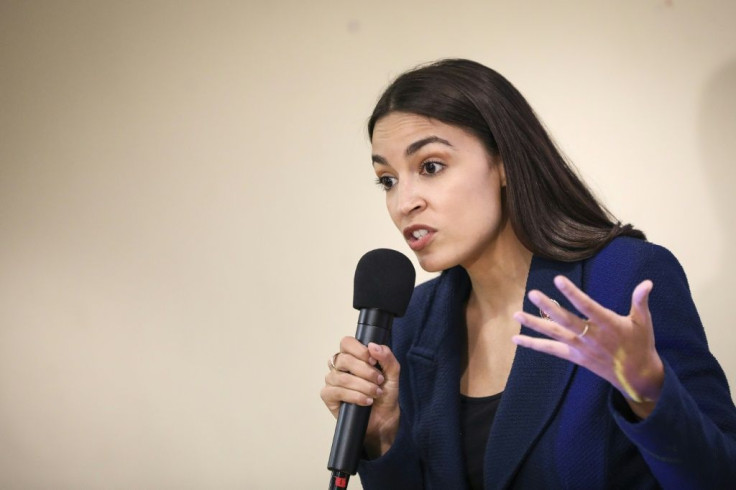 © Copyright IBTimes 2023. All rights reserved.