Apple Inc. iPad Air 2: What Will Convince Users To Finally Upgrade Their iPads?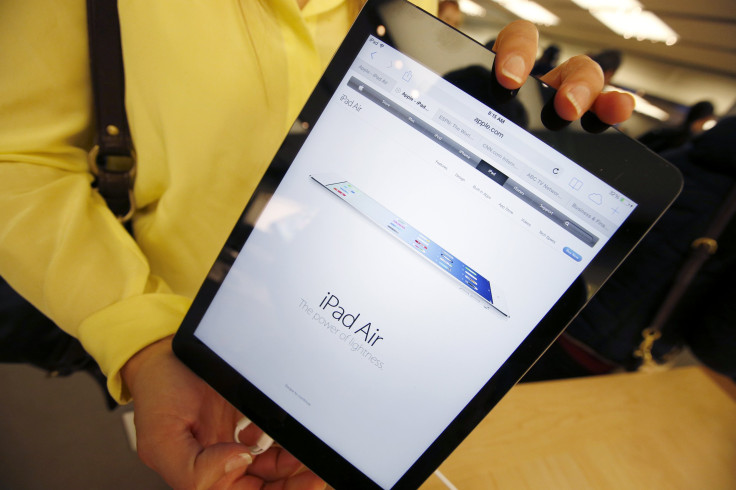 With the blockbuster release of iPhone 6 and 6 Plus, Apple Inc.'s business is firing on all cylinders. But there's one lingering problem: IPad sales have been in decline for nearly a year. Sales in the most recent quarter declined 8 percent.
That puts some pressure on Apple next week when it's expected to unveil the next generation of iPads or what the rumor mill is calling iPad Air 2.
Apple introduced the iPad in 2010 and it quickly became one of its most important products. The IPad accounts for 18 percent of Apple's total sales, making it the tech giant's No. 2 biggest revenue generator behind iPhone (55 percent) and ahead of Mac (13 percent). For Apple to stay on its roll, the next generation of the Air simply has to be a hit.
But the iPad upgrade cycle looks less like a phone and more a PC, meaning people replace them less often. The release of the iPhone 6 has already convinced millions of users around the globe to upgrade their devices, but it's not known whether the next round of iPads will do the same. Some believe Apple may be having a hard time convincing users to upgrade their iPads every two years.
If the iPad Air 2 is unveiled during the event next week, the question becomes: "What will be the key features that convince users to finally upgrade to the latest model?"
Touch ID
The iPhone 5S effectively served as the test bed for Apple to gauge public's response to fingerprint-reader technology on a mobile device. It didn't do much at the time, since Apple limited Touch ID to unlocking the iPhone 5S and making purchases from the Apple Store app. It was also noticeably absent from Apple's iPad Air and second-generation iPad Mini in 2013.
But with the release of iOS 8, which now allows Apps to use Touch ID and the upcoming launch of Apple Pay, the company's mobile and online payment solution, the time may be right for Touch ID on the iPad Air 2. Add to that the growing concern about safely using credit cards at retailers and online stores due to the number of data breaches and hacks this year alone.
Though Apple Pay is expected to debut on the iPad Air 2, it's unknown if the tablet will also feature near-field communication technology, which is present inside the iPhone 6 and 6 Plus.
Faster performance
Apple's latest mobile operating system is reportedly sluggish on the old iPad 2, which could push users to purchase a new device.
Apple's second generation tablet has had a relatively long shelf life. It took the company three years before it finally decided to retire the tablet in March. Though the tablet is no longer available from Apple Stores, the company still supports it in its latest operating system, iOS 8. But even that comes with a number of drawbacks.
As Apple continues to improve the iOS ecosystem, not every tool and feature can necessarily make it onto older devices, such as the iPad 2. With iOS 7, it was Siri, FaceTime over cellular, AirDrop and high-dynamic range or HDR photos, which aren't necessarily a deal breaker. In iOS 8, the story is largely the same, with Apple Health, Handoff and support for 64-bit apps missing. And it doesn't help that iOS 8 makes the legacy tablet even slower, according to ArsTechnica.
Higher resolution or larger display
Demand for Apple's iPhone 6 and 6 Plus showed that users were clamoring for more space to work with on their devices. Though the company isn't expected to change the form factor of the iPad Air 2, rumors indicate that it may feature an improved higher-resolution Retina HD display.
Where Apple could really go big is via an entirely new iPad, which some believe to be a 12.9-inch tablet -- one that could be called the iPad Pro. But it's unknown whether we'll see it this year as suppliers struggle to keep up with demand for Apple's iPhone 6 and 6 Plus.
Split-screen multitasking
Apple's iPad Air 2 could contain 2GB of RAM to support the number of features introduced in iOS 8. But the size increase could also be for another unannounced feature, which some believe may be split-screen multitasking. The feature that would allow users to run multiple apps alongside one another at the same time has been supported on Microsoft's Surface tablets and Android devices for some time.
Early iOS 8 beta code showed references to such as feature in June, according to 9to5Mac. Yet there haven't been many references to the feature in the final release of iOS 8.
We'll know soon enough what Apple has in store next week, when the company unveils its iPad Air 2, Mac Mini and other anticipated products at its Oct. 16 media event, which will be livestreamed.
© Copyright IBTimes 2023. All rights reserved.