Apple's iPad Throws off much more Heat: Tests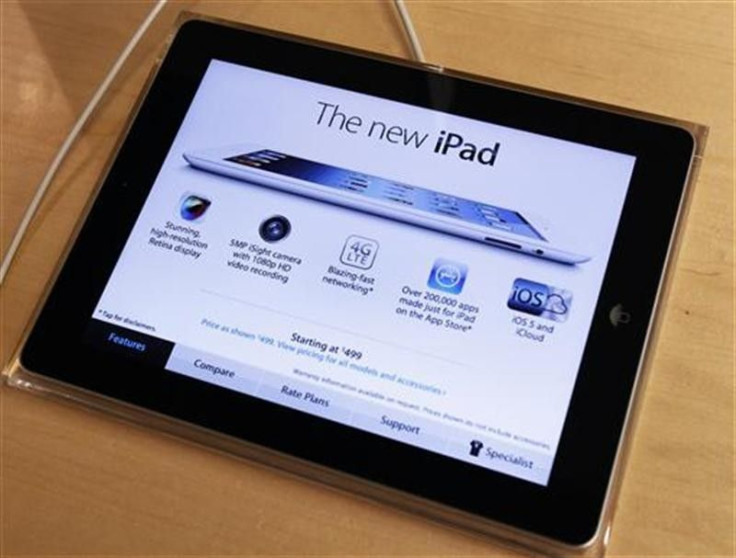 Apple Inc's new iPad throws off a lot more heat than the previous version, lending weight to complaints on Internet forums that the hot-selling tablet computer could get uncomfortably warm after heavy use, an influential consumer watchdog found after running tests.
Consumer Reports, a widely followed group that reviews everything from electronics to cars, found that Apple's new tablet racked up temperatures of 116 degrees Fahrenheit (47 Celsius) after 45 minutes of running an intense action game, up to 13 degrees F hotter than the previous model under similar conditions.
Using a thermal imaging camera, it ascertained that the front and rear of the tablet could run 12 to 13 degrees F hotter than the iPad 2 after running Infinity Blade II, depending on whether it was plugged in, Consumer Reports said.
The group, which can be instrumental in the success or failure of consumer products, has not reached a final decision on whether to recommend the latest model of Apple's tablet. A spokesman urged caution on the part of consumers but added the heat issue in itself did not appear serious enough to void its recommendation.
Consumer Reports plans to release a final review on the new iPad - which has sold more than 3 million units since it hit store shelves in more than 10 countries on Friday - in about five days.
During our tests, I held the new iPad in my hands. When it was at its hottest, it felt very warm but not especially uncomfortable if held for a brief period, reviewer Donna Tapellini said in the report.
The third iteration of the iPad, which hit markets in 2010, set a record for first-weekend sales when it launched Friday.
Hundreds of comments posted on an Apple support website, here#17879177, centered on how the new iPad -- which sports a larger battery than its predecessor to power a sharper retina display screen and other bells and whistles -- could get uncomfortably warm.
My new iPad ... definitely got significantly warm, almost too warm to hold warm, when running on LTE, rawwave commented on Friday. Not even doing a lot of downloads (just browsing Twitter) but having the LTE radio on seemed to cause it to get noticeably hot.
BIGGER BATTERY
An Apple spokeswoman said the iPad was within our thermal specifications. The company's website lists the normal operating range for the new iPad as between 32 and 95 degrees Fahrenheit, or 0 to 35 degrees Celsius. It is designed to power down should that range be breached.
The company's shares were up 0.8 percent at above $605 in afternoon trade.
The new iPad's battery is 70 percent bigger than the one in the previous version, said Kyle Wiens, chief executive of iFixit, a prominent Apple repair and parts supplier.
It still has the same battery life, he said. So it will run hotter.
The iPad 2 had a 25 watt-hour battery while the new iPad's battery has a capacity of 42.5 watt-hours, according to a tear-down analysis by iFixit.
Reviews have generally been good for a gadget that experts say falls short of being revolutionary, focusing on the iPad's ability to take advantage of faster 4G wireless technology as well as a sharper display.
On Friday, before comments about excessive heat began circulating online, Consumer Reports said in its preliminary review that the iPad was shaping up as the best tablet yet.
(Reporting by Edwin Chan and Poornima Gupta; Editing by Andre Grenon, Gerald E. McCormick and Tim Dobbyn)
© Copyright Thomson Reuters 2023. All rights reserved.