April The Giraffe Pregnancy Live: Countdown To Calf's Birth As Zoo Says 'It Should Not Be Much Longer'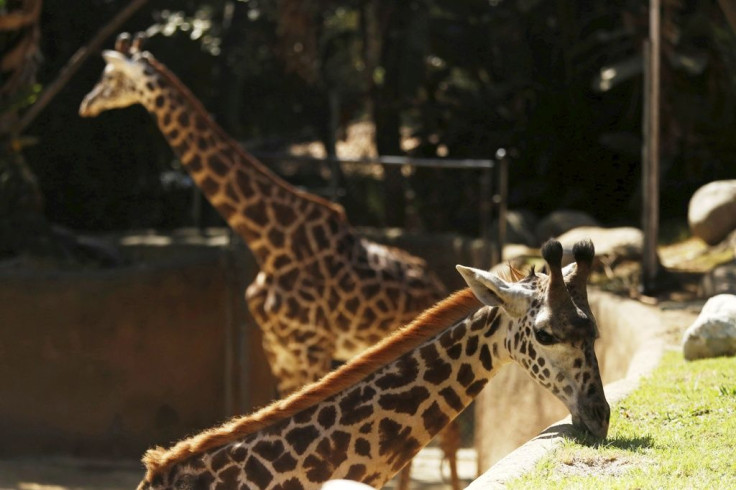 April, the pregnant giraffe, may be ready to give birth at any time now as her mammary development was at its peak, keeping thousands of people engaged as they waited for her to reach the end of her pregnancy.
The Animal Adventure Park in Harpursville, New York, set up a live stream to document April's pregnancy and the birth of her calf early last month, a move that catapulted her into instant internet fame. Millions of people across the world have been checking in on the pregnant giraffe through the live stream and updates posted by the upstate New York zoo on its Facebook page, which is followed by almost a million people.
Read: April The Giraffe 'Hours' Away From Giving Birth On Live Cam
Over a month after the live stream was set up, April is still keeping us waiting. A regular giraffe pregnancy lasts up to 15 months and April was expected to give birth late last month, or at the starting of March. However, there has been no sign of the giraffe going into active labor even as the month ends, raising the possibility that April will, in fact, give birth to her calf in April.
Watch the live stream here.
In the evening update Thursday, the zoo said, "Her behavior is very off from normal demeanor; this is to be expected. Mammary development photos were not captured, but udders reported as full. It should not be much longer!"
The zoo also said that it was in the process of coming up with an "official text alert system," which will be up for subscription Friday. With this alert, subscribers will be privy to an exclusive "Labor Alert" text, along with other information. A part of the proceeds from the subscription fee will go to the Giraffe Conservation Foundation, the zoo said.
Earlier in the day, the zoo reported that April was moving in the right direction and said, "We continue calf countdown."
© Copyright IBTimes 2023. All rights reserved.