Are Police Being Targeted? Amid Black Lives Matter Protests, Officers In Baton Rouge, Dallas, Florida And Milwaukee Attacked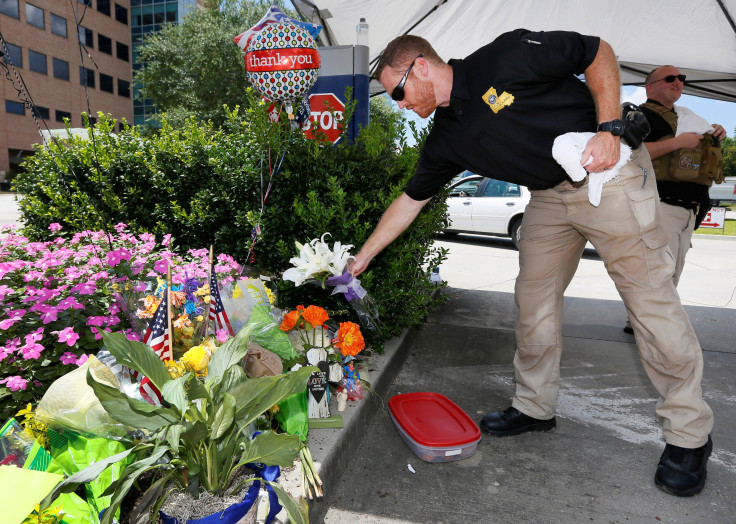 The people tasked with keeping civilians safe may be in need of protection themselves.
Thirty-one law enforcement officers have been fatally shot so far this year, an uptick of 72 percent from the year before, according to the National Law Enforcement Officers Memorial Fund.
"This is both shocking and unprecedented in recent history," the fund's president, Craig W. Floyd, said in a Sunday statement. "Fourteen of the officers killed this year in shootings were ambushed; killed simply because of the uniform they wear and the job that they do."
Floyd was reacting to news of a Sunday shooting in Baton Rouge, where authorities said black Marine veteran Gavin Long "intentionally targeted and assassinated" three officers and wounded three others, according to Reuters. But his comments can apply to several other recent news events.
Law Enforcement Fatalities | Graphiq
On July 7, gunman Micah Xavier Johnson killed five police officers and injured seven others after a Black Lives Matter protest in Dallas. Johnson had told negotiators "he wanted to kill officers, and he expressed killing white people," police chief David Brown later revealed at a press conference. The timing suggested Johnson may have been motivated by the deaths of Alton Sterling in Louisiana and Philando Castile in Minnesota, both unarmed black men fatally shot by police this month, CNN reported.
On July 8, officer Michael Flamion was shot in the neck in St. Louis, Missouri during a traffic stop. Chief Kevin Scott told reporters Monday Flamion was left paralyzed due to "catastrophic damage to his spinal cord," according to the Associated Press.
That same day, an officer in Valdosta, Georgia was shot when he responded to a 911 call about a car break-in. Officer Randall Hancock was only struck one time because of his bulletproof vest, the AP reported. The suspect, Stephen Paul Beck, was hospitalized and charged.
This past Sunday, Milwaukee police officer Brandon Baranowski had to have surgery after being "attacked viciously" by a suspect shooting bullets into his car as Baranowski responded to a domestic disturbance. The gunman, Tomas A. Uriegas, appeared to have killed himself afterward, WISN reported. Baranowski will recover.
That same day, police found one of their police cars — with nobody inside — on fire in Daytona Beach, Florida. The vehicle had been left parked in front of an Islamic center, according to ClickOrlando. The flames were extinguished, but a note referencing the Black Lives Matter movement as well as Sterling and Castile was found nearby.
From 1991 through 2012, police ambushes were declining, according to a fact sheet from the International Association of Chiefs of Police. Most suspects used their hands and firearms in the attacks.
"It is time for the silent majority in this country to support law enforcement," Devon Anderson, the district attorney in Harris County, Texas, told reporters last year. "There are a few bad apples in every profession. That does not mean there should be open warfare declared on law enforcement."
© Copyright IBTimes 2023. All rights reserved.