Are Self-Driving Cars Safe? Uber Forced To Take Cars Off San Francisco Streets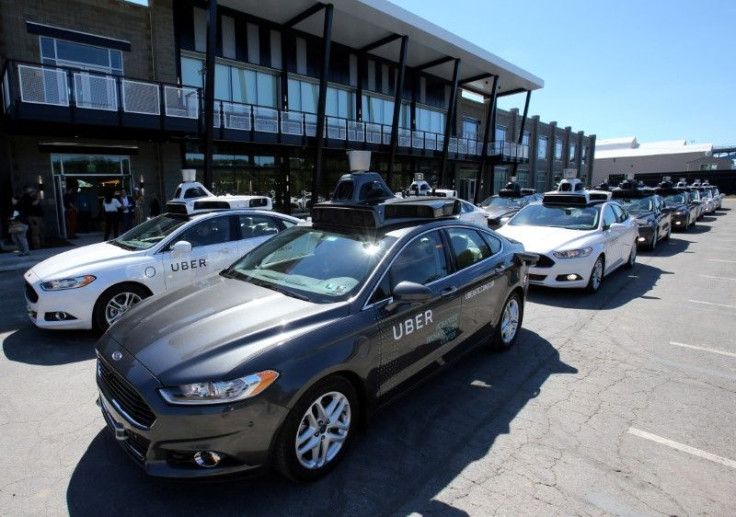 Uber has been forced to back down in its dispute with Californian authorities, taking its self-driving cars off the streets of San Francisco Wednesday. The move followed the state's Department of Motor Vehicles revoking their registration as well as reports of the cars running red lights.
A standoff occurred after Uber had declined to follow the example of competitors such as Google and Tesla, which obtained state-issued permits for their self-driving cars. Because it employed a driver to sit in each of its fleet of 16 self-driving cars ready to take the wheel, Uber insisted that a permit wasn't necessary.
But a week after the ride-hailing giant formally launched its cars on the San Francisco streets, the DMV cracked down.
"Uber is welcome to test its autonomous technology in California like everybody else, through the issuance of a testing permit that can take less than 72 hours to issue after a completed application is submitted," a DMV spokesman wrote in an emailed statement to the San Jose Mercury News. "The department stands ready to assist Uber in obtaining a permit as expeditiously as possible."
Uber's move into the rapidly expanding and increasingly competitive self-driving car market saw it also launch a fleet of self-driving Volvos in Pittsburgh in September. As part of the program, customers have been able to hail the cars. The $68 billion company insists it has not given up on its plans in California.
"We're now looking at where we can redeploy these cars," an Uber spokeswoman wrote in an emailed statement to the San Francisco Examiner, "but remain 100 percent committed to California and will be redoubling our efforts to develop workable statewide rules."
However, the failure to obtain permits was not the only controversial aspect of Uber's self-driving program in California. Questions were also raised about their safety when at least three self-driving cars were reported to have run red lights in San Francisco. A video even emerged showing one of the cars doing just that.
Uber claimed that the incident was a result of human error, a claim countered by one witness. San Francisco mayor Ed Lee said he discussed the issue when he met with Uber co-founder and CEO Travis Kalanick on Friday.
"Oh yeah, I brought up the video," Lee said. "He claimed — and I don't know this for a fact — that the technology was turned off at the time."
It is not the first time the safety of self-driving cars has been called into question. Indeed, Uber has admitted that its cars have a problem with the way it crosses bike lanes, while one of its self-driving vehicles was involved in a collision in Pittsburgh in October. Tesla now has self-driving technology installed on all its new cars but, in May, a driver deploying the autopilot mode was killed after it drove under a truck.
© Copyright IBTimes 2022. All rights reserved.
FOLLOW MORE IBT NEWS ON THE BELOW CHANNELS