Ariana Grande, Nicki Minaj Slam Feud Rumors Again This Way
Rumors about a feud between Nicki Minaj and Ariana Grande started after the release of the former's new single "Bust Down Barbina." In that song, Minaj referenced Grande in a way that some fans felt was a diss. The two singers have now set the record straight about the issue.
One fan recently asked Grande on Twitter if Minaj's song was meant as a "shade" or an insult. The specific line that has caused the controversy reads, "killing everybody beat. Thank you next, Ariana," which seems to reference the title of Grande's new album, "Thank U, Next."
Responding to the fan, Grande confirmed that "there will never be anything but love" between her and Minaj. She explained that Minaj has always been there for her in real life every time she needed someone, and she will be there for the rapper as well. She added that they love each other.
Minaj also joined in on the conversation. In a tweet, she echoed Grande's sentiments. "Not more than you've been there for me behind the scenes. Love you. For life," she wrote.
Not only is there no feud between Grande and Minaj, as they have personally debunked the rumors online, but the two singers have also been friends for years. The two singers have collaborated on "Bang Bang," "Bed" and "The Light Is Coming," among others over the years.
Despite the friendship between Grande and Minaj, there have been persistent rumors about their supposed "feud." The more recent rumor was in December last year when Minaj expressed her sympathy for Pete Davidson, who had spoken out about his mental illness following his breakup with Grande. Some of the fans saw this as her throwing shade at Grande.
Minaj had to again clear up misunderstandings by taking to Twitter. She called Grande her "sister" and added that people who are seeing hidden meanings in everything she does won't come between her and Grande.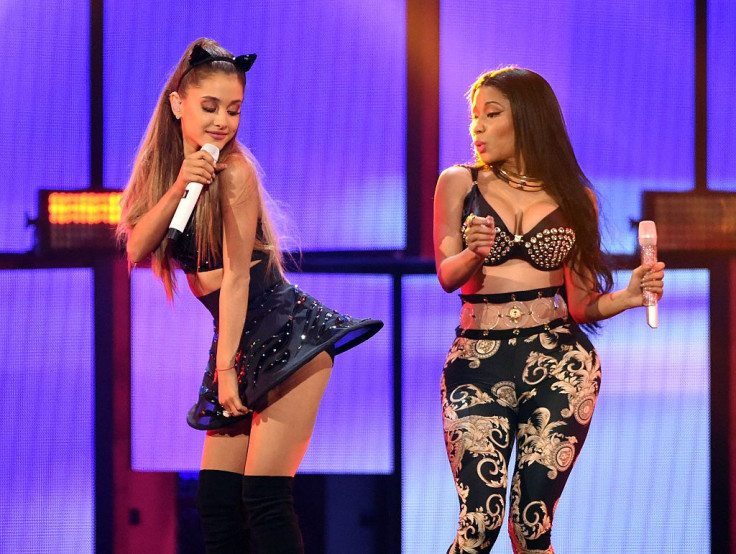 © Copyright IBTimes 2023. All rights reserved.