Ariana Grande's Family Home Guarded By Heavy Security Following Manchester Bombing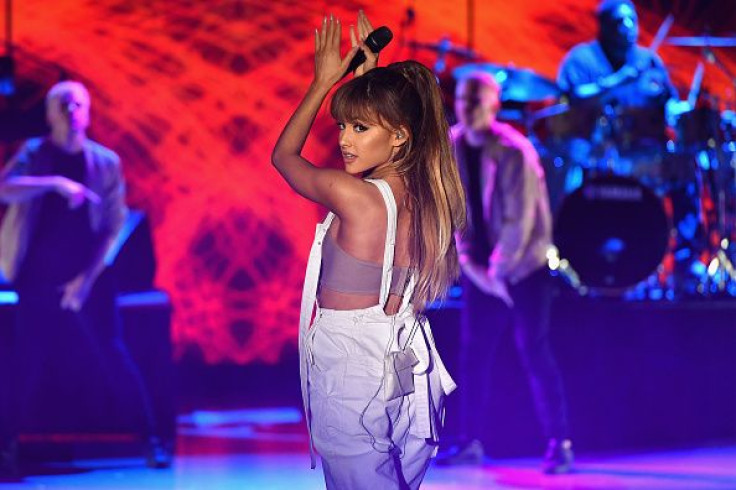 Following the Monday suicide bombing at an Ariana Grande concert in Manchester, England that left 22 dead and more than 50 others injured, the singer is reportedly staying with family in Florida. According to unnamed law enforcement sources, the home where she is recovering is reportedly being heavily guarded by both private security and local authorities who're regularly patrolling the area while Grande is in town.
Grande, 23, flew to her mother Joan's home in Boca Raton after indefinitely suspecting her "Dangerous Woman" world tour. TMZ reported Sunday that the "Side to Side" singer's mother always brings in extra security when the pop star is back at home, however "local police are more actively patrolling the area given the circumstances around Manchester." The gossip website added that police ramped up the security in the area of their own volition.
Read: Ariana Grande Trolled By Pro-Trump Alt-Right After Concert Bombing That Left 22 Dead
"Security vehicles were positioned in front of her mom's home in Boca Raton," TMZ reported. "It's a gated community, but no one's taking any chances. In addition to private security, 2 cop cars are stationed on the street."
Grande was pictured Tuesday arriving home in Florida and being greeted by her boyfriend, 25-year-old Mac Miller. Video of her arrival showed her sharing a tender moment with Miller, who has cancelled a number of performances — including this weekend's Sasquatch and Soundset festivals — to support Grande during this time.
"Soundset and Sasquatch, I will not be performing this weekend," the rapper wrote on Twitter Friday. "Thank you for understanding. I'll be back. Love always."
Read: Fans Defend Kim Kardashian After She Deletes Instagram About Manchester Bombing
Grande is currently planning a benefit concert in Manchester that is scheduled for June 4, TMZ reported Saturday. The singer announced Friday on Twitter that she'd be returning to the "incredibly brave city." TMZ added that Grande and her manager Scooter Braun are reaching out to "some of the biggest names in music" for the event.
"I'll be returning to the incredibly brave city of Manchester to spend time with my fans and the have a benefit concert in honor of and to raise money for the victims and their families…I will have details to share with you as soon as everything is confirmed," she said.
In the lengthy page-long post, Grande also addressed the families of the Manchester bombing victims.
"I have been thinking of my fans, and of you all, non stop over the past week," she wrote. "The way you have handled all of this has been more inspiring and made me more proud than you'll ever know. The compassion, kindness, love, strength and oneness that you've shown one another this past week is the exact opposite of the heinous intentions it must take to pull off something as evil as what happened Monday. YOU are the opposite. I am sorry for the pain and fear that you must be feeling and for the trauma that you, too, must be experiencing."
© Copyright IBTimes 2023. All rights reserved.