Ariana Grande Trolled By Pro-Trump Alt-Right After Concert Bombing That Left 22 Dead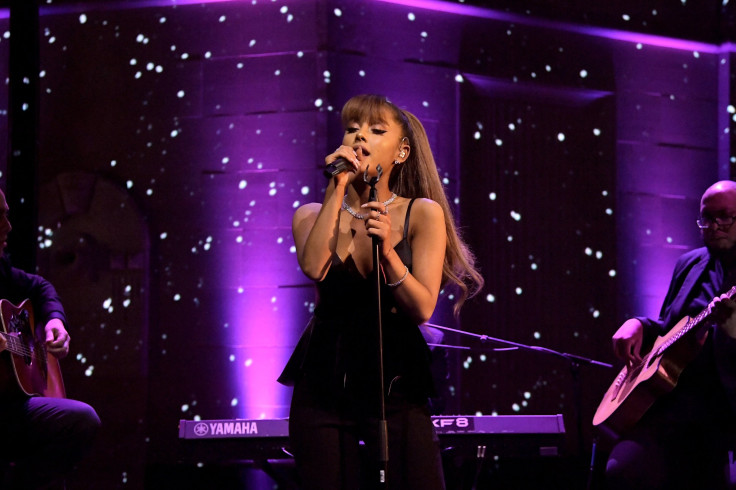 Following the Manchester, England bombing at an Ariana Grande concert that left 22 people dead, the multi-hyphenate is now being trolled by pro-President Trump, alt-right commenters across social media. The "Side to Side" singer is known for her liberal political leanings, and the alt-right have latched onto a defamation campaign that purports to prove Grande hates America.
Read: What Happened At Ariana Grande Concert? Suicide Bomber Suspected For Explosion
The pro-Trump Facebook page "Patriots for America USA" published a meme Monday of Grande and the words "I hate Americans. I hate America." The caption reads, "Ariana Grande - Pro refugee, Muslim sympathizer, anti-Trump, anti-American, Women's March organizer and raging liberal is suddenly wishing she was back in the safety of the America she hates so much!" The post had amassed more than 50,000 reactions by Wednesday.
The meme points to a quote from Grande, who was recorded saying the words in 2015 during an incident at a donut shop. She later issued an apology on Twitter, writing, "I am extremely proud to be an American and I've always made it clear that I love my country."
Read: Ariana Grande's Fans Responds To Her Tweet About Manchester Bombing, Offer Their Support
As Mashable pointed out Wednesday, the meme has already been published across several social media outlets, including pro-Trump sub-reddit The_Donald. Copying the meme and text shared on Facebook, reddit user Pezto added, "Call me heartless, don't care. But the truth is, if you nurture and protect a society of violence, one day it will directly affect your life."
Mashable noted that the meme has also appeared on a number of alt-right Twitter accounts, including former KKK leader David Duke, conspiracy theorist Mike Cernovich, The Rebel TV's Jack Posobiec and Infowars' Paul Joseph Watson.
Beyond the ostensible nationalism is an underlying hatred of Grande's liberal ideologies. Grande has been an advocate for a number of causes, including LGBTQ rights, anti-bullying campaigns and animal rights.
The alleged suicide bombing at her Manchester concert Monday evening killed 22 people and injured more than 50 others. Fans have rallied around the singer, who has suspended her "Dangerous Woman" tour indefinitely. Grande wrote on Twitter Monday that she was "broken," adding, "from the bottom of my heart, [I] am so so sorry. [I] don't have words."
© Copyright IBTimes 2023. All rights reserved.