Arizona Police Arrest 4, Seize Nearly $4M Of Meth During Traffic Stop
KEY POINTS
A K9 helped authorities seize nearly $4 million worth of meth in Arizona
The MAGNET task force conducted a traffic stop and searched a vehicle suspected of transporting drugs
The bust also resulted in the arrest of four people
They will face charges of transporting of dangerous drugs for sale and possession of dangerous drugs for sale
A traffic stop turned into a drug bust as authorities in Arizona arrested four individuals and seized nearly $4 million worth of illegal drugs last week.
Mohave Area General Narcotics Enforcement (MAGNET) detectives conducted a traffic stop on Interstate 40 in Kingman late Thursday, September 17 and pulled over a vehicle. An Arizona DPS K9 then alerted officials of possible narcotics inside the car, the Mohave County Sheriff's Office said in a Facebook post.
MAGNET is a three-squad task force that focuses on drug enforcement. According to the National Criminal Justice Reference Service (NCJRS), the team's 12 enforcement officers "rely on covert surveillance, undercover operations and informants to develop their cases.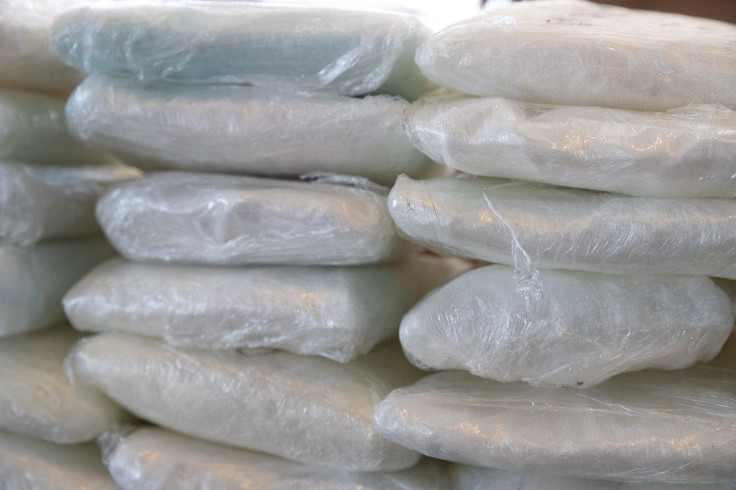 MAGNET is an initiative of the High Intensity Drug Trafficking Area (HIDTA) program of the United States Office of National Drug Control Policy and is supported by the Arizona Criminal Justice Commission (ACJC).
89 pounds of methamphetamine was located by officers following a vehicle search. The drugs, which were found in "numerous bundles," have an approximate street value of $3.9 million, the Sheriff's Office added.
The drug bust also resulted in the arrest of German Alvarado, 22; Abril Arreguin, 28; Marlon Torres, 24 and Moises Moralez-Marquez, 30. All four will face charges of transporting of dangerous drugs for sale and possession of dangerous drugs for sale, said Fox News.
MAGNET, together with local authorities, the Drug Enforcement Agency (DEA), Arizona Department of Transportation (ADOT) and the United States Border Patrol conducted an interdiction detail on Interstate 40 in June of last year. 78 stops were made during the two-day detail, alongside 23 arrests, 10 citations, 44 warnings, 8 immigration violations and 35 searches.
Officials were also able to seize 74 pounds of marijuana, two weapons, 2 human trafficking arrests and over $12,000, said Kingman on its official website.
The NCJRS said Mohave County is an ideal location for clandestine drug laboratories and distribution or shipping centers that serve California, Utah, Nevada and the rest of Arizona due to its major land routes and remote airstrips. The DEA on the other hand cited Arizona as one of the country's major meth hubs as the United States continues its battle with illegal drugs. From 2017 to 2019, the agency saw domestic meth seizures rise 127% from 49, 507 pounds to 112, 146 pounds.
© Copyright IBTimes 2023. All rights reserved.