Armie Hammer, Elizabeth Chambers 'Not Back Together'; Exes Only Co-Parenting, Report Says
KEY POINTS
Armie Hammer and Elizabeth Chambers are working together on their co-parenting relationship
The exes are not back together, and there is nothing romantic going on between them
Hammer and Chambers split in July 2020 after she allegedly discovered his infidelity
Armie Hammer and Elizabeth Chambers have not reconciled amid rumors that they got back together.
Hammer, 35, and Chambers, 39, called it quits in July 2020 after 10 years of marriage. There were rumors that the "Rebecca" star got back with his estranged wife, but they turned out to be not true.
"Elizabeth and Armie have been working together on their co-parenting relationship," an unnamed source told Us Weekly. "They are not back together, there is nothing romantic going on between them."
Hammer and Chambers share daughter Harper, 7, and son Ford, 5.
They allegedly split after she discovered his infidelity. Multiple sources claimed that she filed for divorce after the "Call Me by Your Name" star left their family in the middle of their COVID-19 quarantine.
"The Hammers had been in expensive family therapy, but, to Elizabeth, the indiscretions — and more notably his decision to flee the family during a global pandemic — were the final straw," an insider told Vanity Fair in May 2021. "When Armie touched down in the U.S., he mistakenly sent a raunchy text message meant for someone else to his estranged spouse. Elizabeth filed for divorce shortly after."
A friend close to Chambers told the outlet that Hammer confessed to a "one-time" cheating offense shortly after their son's birthday in 2017. However, the "last straw" for the TV personality was when she "found evidence of an affair Armie was having with a co-star."
They didn't name Hammer's co-star who had an affair with him. However, there were rumors that Lily James appeared "smitten" with him when filming "Rebecca."
James and Hammer play a married couple in the Netflix movie. Unnamed sources said Chambers found passionate texts and letters from a mystery woman, who called herself "Adeline." Insiders claimed that James' Mrs. de Winter character had no first name and was previously referred to as Adeline in the movie, call sheets and the trailer.
Last year, Hammer made headlines after several women came forward and shared unverified screenshots of messages they allegedly received from him that reflected disturbing sexual fantasies, including rape and cannibalism. An unnamed source told Us Weekly that Chambers was "horrified and shocked" after learning about the allegations.
"She's living in a nightmare. [She] doesn't even recognize the man she married anymore. She wants to help Armie get help but can't do it on her own," the tipster said.
She later broke her silence and released a statement, saying she was "shocked, heartbroken and devastated." However, she declined to make further comments on the issue and said she would focus on their children.
"At this time, I will not be commenting further on this matter. My sole focus and attention will continue to be on our children, on my work and on healing during this incredibly difficult time," she continued. "Thank you for all of the love and support, and thank you in advance for your continued kindness, respect, and consideration for our children and me as we find ways to move forward."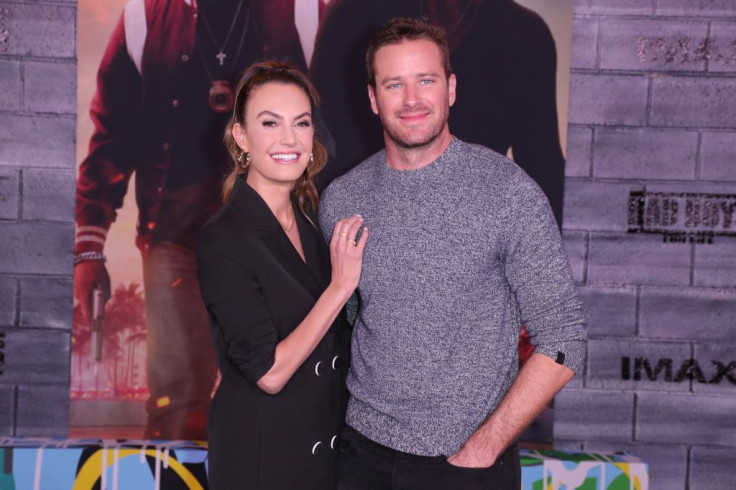 © Copyright IBTimes 2023. All rights reserved.