Twitter Reacts To Report Claiming Lily James, Married Co-Star Armie Hammer Flirted On 'Rebecca' Set
KEY POINTS
A report claims Lily James and "Rebecca" co-star Armie Hammer flirted while filming the movie last year
Hammer and wife Elizabeth Chambers announced their split in July
Twitter users had a mixed response to the new report
Lily James has received flak on Twitter after a new report claims she and her "Rebecca" co-star Armie Hammer flirted on the set of their Netflix film. The actor announced his divorce from his wife of 10 years, Elizabeth Chambers, in July.
James and her married "The Pursuit of Love" co-star Dominic West made headlines a few weeks ago after photos surfaced showing them getting cozy and kissing in Rome. But the actress has now found her name attached to another controversy after Daily Mail reported, citing unnamed sources, that she appeared "smitten" with Hammer when they were filming "Rebecca" last year.
International Business Times could not independently verify the claims made in the report.
The report received a mixed response on Twitter. Some dubbed James a "homewrecker," while others condemned outlets for allegedly painting the actress as the bad guy.
"lily james is 100% a homewrecker smh," one netizen wrote on Twitter.
"Oh no, Lily James is now being linked to Armie Hammer's divorce," another Twitter user commented.
"This 'Lily James-is-the-devil' narrative that has been emerging over the last month is really not OK," another wrote.
Some pointed out that the married men were also to blame if they indeed had an affair with James. The netizens said there would be no affair if it was one-sided, so her male co-stars were just as guilty if the rumors were true.
"The narrative that's going right now is very misogynistic and shows a toxic double standard. It's all 'OMG Lily James flirted with a married man', and not about Hammer cheating on his wife. The tabloids want to paint her as a homewrecker and absolve him of any guilt whatsoever," one Twitter user wrote.
"Yeah, there are multiple headlines out at the moment that are entirely abt James from multiple tabloids. Tale as old as time story, the single woman is at fault. Even if she's barely guilty of anything, the focus is all going to be on her. Bc to these people it's ALWAYS her fault," another tweeted.
"Before the whole 'homewrecker' narrative gets going I'd just like to point out that it does indeed take 2 to tango... or go to Rome and canoodle in a very public airport," one wrote on Twitter before James was linked to Hammer. "1 part Dominic West + 1 part Lily James = Presumed Affair (assuming this isn't an open relationship deal)."
James and Hammer play a married couple in Netflix's "Rebecca." In the report, unnamed sources close to Hammer's wife told Daily Mail that she found passionate texts and letters from a mystery woman who called herself "Adeline."
Insiders claimed, however, that while James' Mrs. de Winter character has no first name, she was referred to as Adeline in the movie call sheets and on the trailer.
"She was not subtle. And he was into it, no doubt about it. She was touching him constantly, giving him long smoldering looks," one source told the outlet.
Meanwhile, Page Six reported, citing unnamed sources, that Hammer briefly dated app founder Courtney Vucekovich this summer. He was also spotted on a date with Jessica Ciencin Henriquez and was seen strolling with Rumer Willis, the outlet said.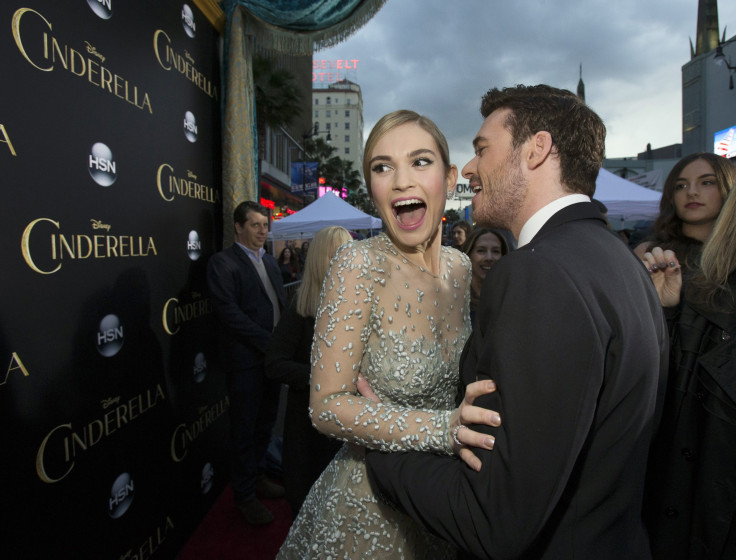 © Copyright IBTimes 2023. All rights reserved.