'Arrow' Season 4 Spoilers: Stephen Amell Posts Photo Of Oliver And Felicity's Vacation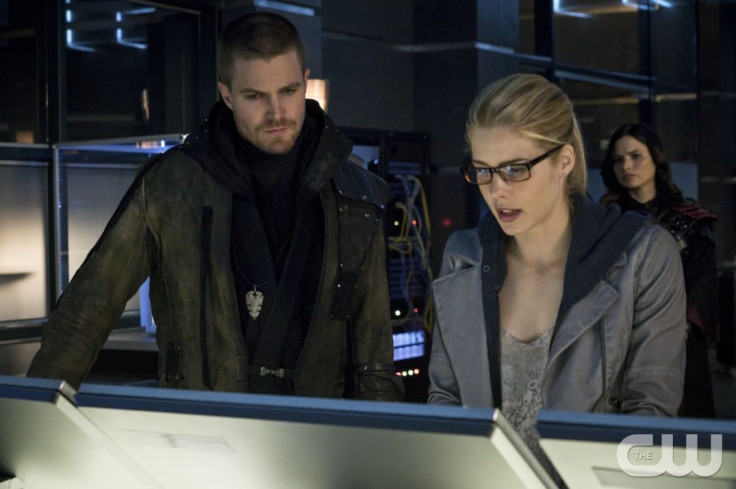 Stephen Amell knows "Arrow" fans want a sneak peek at what the show's biggest couple has been up to over hiatus. The actor posted a picture of his character Oliver and Felicity (Emily Bett Rickards) from the set of Season 4 on Monday.
Amell seems to know that this is a photo that the Olicity shippers will appreciate. The couple recently won an MTV fandom award for ship of the year, and he and his co-star have both acknowledged what a strong fanbase they have. "The passion [for Olicity] is extreme and we're really thankful for it," Rickards told TV Line.
The photo appears to be in a picture frame somewhere on set. Perhaps it's in one of their offices? The snapshot shows Oliver and Felicity on what seems to be a hike. Oliver has a walking stick while Felicity has ditched her glasses. The often brooding superhero seems to be very happy with his girlfriend.
Oliver and Felicity got together in the last few episodes of "Arrow" Season 3. In the finale, Oliver left Starling City with his assistant by his side. When "Arrow" returns, fans will find out what the archer and the tech wiz have been up to.
At San Diego Comic-Con, Amell teased that fans would get a glimpse the couple's summer away. "We go, we vacation, we land in a spot that is not Starling City," he told IGN. "We have established a nice, relatively domesticated life by 'Arrow' standards, but there are problems in the city."
Obviously, the couple has to return home at some point, but there will be a time jump before they return. Producer Wendy Mericle told TV Line that they'd skip over five months. When they get back, Oliver will be fighting crime in a new suit and going up against new villains like Damien Darhk.
"Arrow" Season 4 premieres on Wednesday, Oct. 7, at 8 p.m. EDT on the CW.
© Copyright IBTimes 2023. All rights reserved.