'Arrow' Season 4 Star Stephen Amell Shares Photos Of Old Oliver Queen From 'Legends Of Tomorrow' Crossover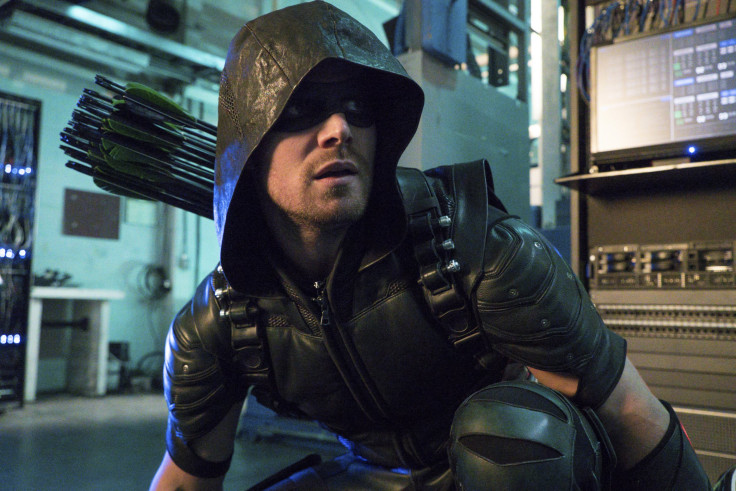 As the CW's newest superhero sensation, "Legends of Tomorrow," continues to fall into its own, it will finally be returning to its roots as a spinoff to "Arrow" in episode 6. Titled "Star City 2046," the new episode will see guest star Stephen Amell appear as a future version of the Green Arrow. And now fans have their first look at an older Oliver Queen.
When a malfunction sends the "Legends of Tomorrow" team's time-travelling ship, the Waverider, crash-landing into the year 2046, they find themselves in Star City, the home of Oliver Queen on "Arrow." According to the episode's synopsis from the CW, they discover a world in which they never returned home or stopped their immortal villain, Vandal Savage (Casper Crump). The sight is depressing to say the least, with the city overrun by criminals and Savage's forces. Luckily, the city never lost its greatest hero, The Green Arrow. He's still fighting crime despite having lost his left arm at some point over the years.
To tease his upcoming guest role on "Legends of Tomorrow," Amell took to Twitter to share some photos of old Oliver Queen. The first image shows the hero sporting his trademark goatee from the comic books, kneeling down before an unknown enemy.
In a teaser trailer for the upcoming episode, it is revealed that 2046 Queen is somehow battling Deathstroke (Manu Bennett). Die hard "Arrow" fans will remember him as Slade Wilson, the principal villain of Season 2. He spends most of his time in 2016 stranded on Oliver Queen's island prison in the south China sea, but apparently escapes at some point before 2046 to wreak havoc on his former enemy. The star also posted a photo to Facebook showing a tired-looking Green Arrow squaring off with his enemy.
The final teaser photo the Amell shared includes six members of the "Legends" team, including White Canary (Caity Lotz), Ray Palmer (Brandon Routh), Leonard Snart (Wentworth Miller), Hawkgirl (Ciara Renée), Rip Hunter (Arthur Darvill) and Firestorm (Franz Drameh), standing behind Queen and the man that is possibly Deathstroke.
Amell previously appeared on the first episode of "Legends of Tomorrow" to help convince his friend, Palmer, to join the mission to stop Savage. However, despite the show borrowing characters from "Arrow" and "The Flash" left and right, Amell's turn as old Oliver Queen will mark the first guest starring role that goes beyond that of a cameo since "Legends of Tomorrow" premiered.
Check out the trailer below for the first look at Oliver in 2046 and tune in to "Legends of Tomorrow" at 8 p.m. EST on Thursday, Feb. 25 to see the show's first crossover event.
© Copyright IBTimes 2023. All rights reserved.