'Arrow' Season 4 Spoilers: What Happened In Episode 14? 'Code Of Silence' Recap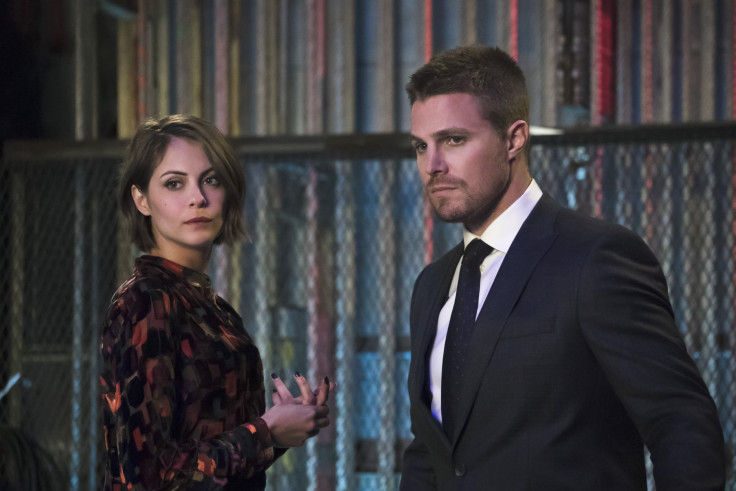 After leaving fans on a major cliffhanger, the latest episode of the CW's "Arrow" raised the stakes even higher after the hero's secret identity and biggest secret was revealed. Wednesday's Season 4 installment saw The Green Arrow take on a highly skilled gang bent on hurting the hero personally and professionally.
Episode 14, "Code of Silence," opens with Star City mayoral candidate Oliver Queen (Stephen Amell) preparing for his first debate against Ms. Ruvé Adams (Janet Kidder), who the secret vigilante knows to actually be the wife of his primary villain, Damien Darhk (Neal McDonough). Following the events of last week's episode, it looked like Darhk would be on the warpath to hurt Oliver now that he learned both of his son and his identity as The Green Arrow. However, Adams leaves the debate stage and meets her husband and his new partner, Malcolm Merlyn (John Barrowman), at a meeting of the villain's backers, HIVE. Although Darhk's magical powers make him the most formidable man in the room, his cabal of criminal leaders still puts pressure on him to make their mysterious operation in Star City work. At this point, the entire plan relies on securing the municipal leadership of the city. As a result, Darhk seemingly has to take a back seat to his wife's campaign. The meeting ends with the frustrated villain telling Merlyn that he's going to be tying up his last remaining loose end with The Green Arrow — his former informant, Captain Quentin Lance (Paul Blackthorne).
In an act of desperation during the midseason premiere, Queen convinced Lance to blow his cover as one of Darhk's men inside the police department in order to get a lead on the villain's location. Since then, Lance has been expecting retaliation but it hasn't come. Just when he's starting to get cocky about his protection as a police officer, a clearly phony breaking and entering call falls on his lap. Despite being the chief of police, he's the only one that can check it out. While he's inside, the building collapses after a series of controlled explosions go off. Thanks to the help of his daughter, Laurel Lance (Katie Cassidy), Quentin gets out relatively unharmed. However, the encounter wakes him up to the target on his head. He calls a meeting with his new girlfriend, Donna Smoak (Charlotte Ross), and tells her that they need to take a break for a few weeks. That obviously strikes the wrong chord with Donna, who isn't up to date on all of this Damien Darhk business. As a result, she breaks up with him.
Meanwhile, Team Arrow tracks down the group responsible for the building collapse and attempt on Lance's life. They find a gang of colorful characters armed with various construction-themed weapons. Despite the heroes' best efforts, the team pretty much mops the floor with them. Thea (Willa Holland) and Oliver get pinned down by a nail gun and Diggle (David Ramsey) gets thrown through a wall by an axe-wielding maniac. Later, when they're licking their wounds at the Green Arrow's lair, Diggle informs them that they're dealing with a highly trained gang known as The Demolition Team. They're responsible for precision-strikes against entire buildings, and now they're working for Damien Darhk and HIVE. They continue to track their movements throughout Star City, but they're always one step behind. However, it's clear that whatever they're planning next is pretty big.
While they wait to catch up with The Demolition Team, Oliver and Thea continue to prep for his impending debate. As she's quizzing her brother, she keeps poking him over the subject of Samantha Clayton (Anna Hopkins). She was doing some digging on her brother before the opposition could and uncovered his long-lost son. He tells her that he's been keeping it a horrible secret since they visited Central City on "The Flash." She tells him that, although it hurts, keeping his child a secret is the safest thing for him.
Before they can grieve about it for too long, the night of the debate arrives. People are packing into the theater as the candidates prepare to square off. However, Adams is running late. Just when the team starts to feel confident about Oliver's chances, the situation slowly dawns on them. The Demolition Team is going to be attacking the theater. Felicity (Emily Bett Rickards) does some quick thinking and manages to figure out the location of all three of their charges. The team evacuates the building and suits up. They encounter The Demolition Team again, but this time their combined teamwork is enough to take them down and save the building.
Unfortunately, the episode jumps from the candidates finally preparing to take the stage for the big show to Oliver and Felicity's engagement party later that night. It's a happy celebration and the news is reporting that Queen won the debate. The party continues with a quick, yet emotional, reconciliation between Quentin Lance and Donna, after he agrees to tell her the truth. From there, the show cuts to Curtis Holt (Echo Kellum) who arrives with his engagement gift, and it's a doozy. He claims to have developed an implantable chip that he believes will allow the recently paralyzed Felicity to walk down the aisle on her wedding day.
With the bad guys in jail, the hero winning the debate, a relationship mended and a very big medical breakthrough happening all around them, the episode was in grave danger of ending on a happy note. Luckily, Damien Darhk arrived at the last minute to menacingly introduce his daughter to William (Jack Moore), Oliver's estranged son. He tells his little girl that William's mother asked him to watch him for a little while, likely sending a chill up every audience member's spine.
Odds and Ends:
The island flashbacks paid off more than ever before showing Oliver finally kill his nemesis Conklin (Ryan Robbins) to gain the trust of his other captives.
We also learn that Reiter (Jimmy Akingbola) is on the island in search of a mystic weapon of untold destruction. However, he believes that only a chosen one can retrieve it. That's where Oliver comes in.
Did everyone catch Diggle reveal that his wife is the new head of A.R.G.U.S.?
Why does anyone agree to work with Damien Darhk when he kills poeple at every business meeting?
Although he wasn't seen in this episode, Andy Diggle (Eugene Byrd) did most of the heavy-lifting in terms of helping them track The Demolition Team. He's a very cooperative captive it seems.
Felicity being paralyzed may be even shorter than we all thought.
© Copyright IBTimes 2023. All rights reserved.