'Arrow' Star Stephen Amell Wraps Series Finale: 'Best 8 Years Of My Life'
Stephen Amell said goodbye to "Arrow" early Thursday morning. The Oliver Queen/Green Arrow actor posted a tweet to let fans know that he wrapped his final day of filming on The CW superhero series.
"Words can't even begin to express what Arrow has meant to me," he wrote. "Best 8 years of my life. The cast and crew of the show have become my family. I'm going to miss them. I'm wrapped."
Amell seems to be the last actor to wrap filming on the series finale, but many of his past and present co-stars were writing sentimental messages throughout the day on Wednesday.
Roy Harper/Arsenal actor Colton Haynes, who will make his first "Arrow" Season 8 appearance next week, shared a heartfelt message on Instagram. "Today is the last day on Arrow. The last day I will get to go to work with these beautiful humans on a show that gave me so much," he said. "These [people] were with me through all the good & sad times & helped me through more than I can ever repay them for. Thank you @gberlanti for bringing me on this wonderful journey & to all the incredible writers, producers, cast, crew, & FANS for being so incredible all these [years]."
Dinah Drake actress Juliana Harkavy posted an emotional message as well. She included a photo of herself with tear-filled eyes that was taken right after she learned she would play the new Black Canary on "Arrow."
Original cast member Katie Cassidy, who has played multiple versions of Laurel Lance, kept her goodbye short and sweet.
David Ramsey started his last day with coffee in a fan made mug.
Tommy Merlyn actor Colin Donnell posted a long Twitter thread where he revealed that the best part of working on the DC Comics adaptation has been making such good friends. "I have always said that as I move from job to job I'm lucky if I get to keep ONE good friend after I move on. With Arrow I've kept more than I thought possible," he wrote, in part.
Of course, it might not be goodbye for everyone. Katherine McNamara, who plays Mia, is set to lead her own spinoff with "Green Arrow and the Canaries." Still, she shared a grateful celebratory message.
Luckily, fans still have a lot to look forward to before they have to say goodbye. The "Arrow" series finale will air Tuesday, Jan. 28 on The CW.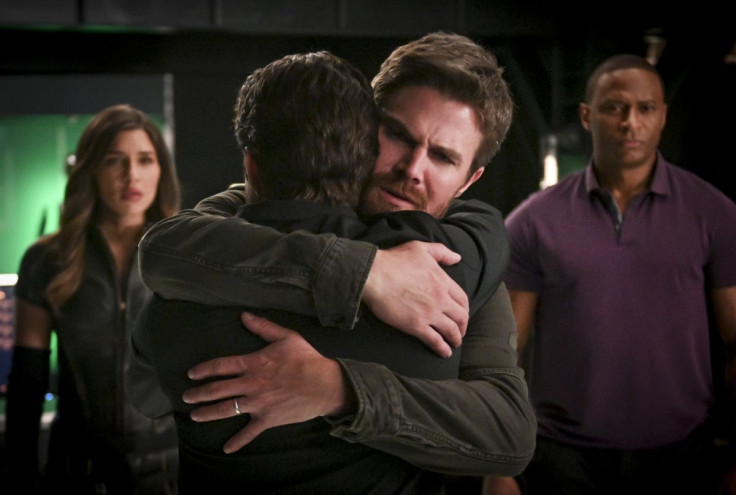 © Copyright IBTimes 2023. All rights reserved.