'Arrow' Stars Send Condolences To Katie Cassidy After David Cassidy's Death
The "Arrow" cast is sending love to their co-star Katie Cassidy right now. The Black Siren actress is mourning the death of her father, David Cassidy.
Stephen Amell, who plays the Green Arrow, sent out a tweet with his well wishes, reminding fans that he considers the "Arrow" cast family. Amell has been on the CW superhero drama with Katie since 2012.
"Arrow is a family & we're all thinking about @MzKatieCassidy & her family tonight," he wrote. Katrina Law, who recurs on the series as Nyssa Al Ghul, retweeted the message.
Paul Blackthorne plays Katie's father on the CW hit. "So sorry to hear of the passing of David Cassidy," he wrote Wednesday afternoon. "Huge hugs & condolences to my dear friend & colleague @MzKatieCassidy."
Michael Emerson is currently playing baddie Cayden James on "Arrow," and the new cast member also sent well wishes to Katie. "Rainy and cold in Vancouver but warm hearts and good humor on the set of @CW_Arrow. All best wishes to @MzKatieCassidy and her family," he wrote.
She hasn't responded to her co-stars messages yet. Understandably, the actress hasn't been active on social media since the news of her father's death was revealed.
David Cassidy died Tuesday in Florida at age 67. As previously reported, the former "Partridge Family" star's kidney and liver failure caused his death. He had also been suffering from dementia.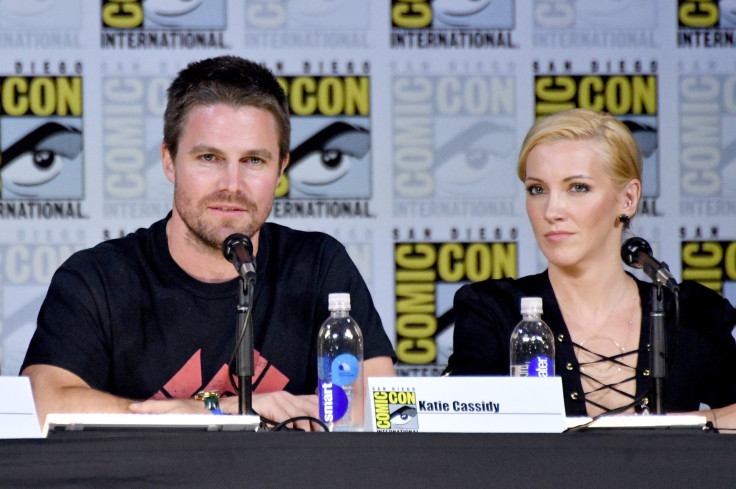 While Katie, 30, followed in her father's footsteps and became an actress, she was not actually raised by David. The "C'mon Get Happy" singer admitted she was raised by her mother, former model Sherry Williams, and stepfather, doctor Richard Benedon.
"I've never had a relationship with her," Cassidy explained to People earlier this year. "I wasn't her father. I was her biological father but I didn't raise her. She has a completely different life."
In the February interview, David said he was no longer in contact with his daughter. He was however, still in touch with his son, Beau, 26. Beau's mother is writer Sue Shrifrin-Cassidy, who was married to David until 2016.
© Copyright IBTimes 2023. All rights reserved.