Arsenal Transfer News: Luis Suárez A Shock Target? Spanish Trio Also Linked To Gunners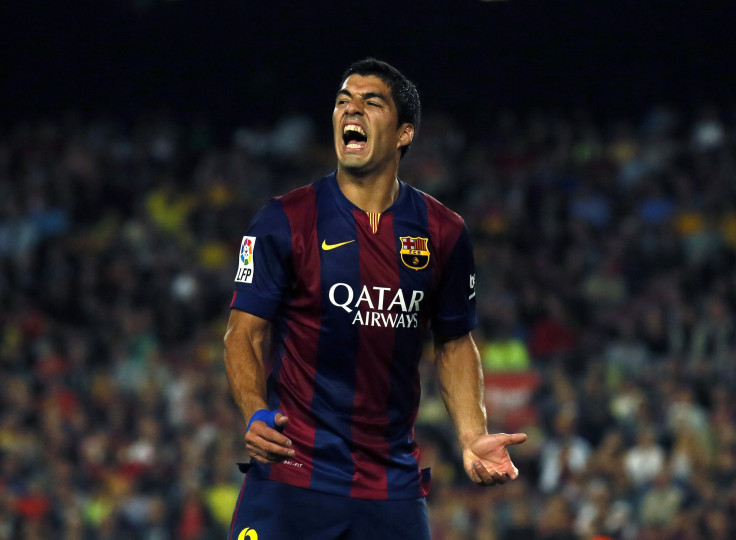 It was 18 months ago that Arsenal were involved in one of the most acrimonious transfer tug-of-wars in recent memory when they tried to prize Luis Suárez away from Liverpool with the help of a much-disputed release clause. Now, reports claim that the Uruguayan is back on the Gunners' agenda.
Suárez, of course, ended up staying with Liverpool that summer after his club rejected the now infamous bid of £40,000,001. After going onto win the PFA Player of the Year, he did leave Anfield, but for Barcelona, rather than north London, in a £75 million deal. Yet things have not yet clicked for the Uruguayan forward at the Camp Nou, prompting a story from The Sun this week that Arsenal are considering offering him a route back to the Premier League.
It would be a massive deal for Arsenal to pull off, but there appears very little chance of it coming to fruition. Suárez has certainly had a difficult start in Barcelona. Forced to miss the first two months of the season after a suspension for his bite at the World Cup, the 28-year-old has struggled to thrive in a forward line that also contains star players Lionel Messi and Neymar, scoring just five goals.
Still, there have been signs, as manager Luis Enrique has tweaked his system of late, that Suárez is starting to come more to the fore. And it would be ridiculously early for Barcelona to give up on a player in which they have made such a hefty investment. Making a sale even more unlikely is the fact that Barcelona are forbidden from signing players until next January after incurring a transfer ban. Unless the situation becomes drastically worse and Suárez becomes unsettled, there would be little reason for the Spanish giants to cash in. Indeed, Catalan publication Sport has reported that Suárez has no interest in leaving Barcelona. There also seems little chance that Arsenal would be willing to make an offer that would even tempt Barcelona into a sale.
There remains plenty of interest, though, in whether, as Wenger has previously suggested, Arsenal will follow up the signing of Gabriel Paulista with more arrivals before the close of the January transfer window. The Daily Express has reported that Arsenal are prepared to meet the £13.5 million buy-out clause of Valencia's 19-year-old left-back José Luis Gayà. Ignoring that fact that, with Kieran Gibbs and Nacho Monreal at the club, a new left-back would not appear to be a priority for the Gunners, the stiff competition they would face means Gayà is unlikely to be moving to the Emirates. In Spain, sports daily Marca has reported that Real Madrid are very keen on the player and are themselves deciding whether to meet his release clause.
Another Valencia player also linked to Arsenal of late who now definitely won't be going anywhere for a while is Paco Alcácer. The 21-year-old striker has had a breakthrough season, in which he has also made his debut for Spain, to garner reported interest from the Gunners and Liverpool. But he has quashed those hopes of securing his signature by putting pen to paper on a new five-year contract with Valencia. Afterward he revealed that he never considered leaving.
"I never had any doubts," he said, reports AS. "Every time I came into the club offices my answer was the same. Since I was young I've been coming to the stadium to watch the team and for me it's a dream come true. Now I want to make more happen."
Arsenal's name has been linked with another Spaniard of late. After Real Madrid competed a deal for one-time Arsenal target Lucas Silva this week, the future of current Madrid midfielder Asier Illarramendi was cast into doubt, with Arsenal cited as a leading suitor. Athletic Bilbao were also linked with a 25 million euros (£18.8 million) bid for a player who cost 30 million euros (£22.5 million) 18 months ago. But, according to Madrid-based publication AS, Illarramendi has turned down the chance to leave and is set to stay at the Bernabeu at least until the summer.
© Copyright IBTimes 2023. All rights reserved.