Arsenal Vs. Bayern Munich: Prediction For Second Leg; Can Gunners Repeat Last Season's Win In Germany?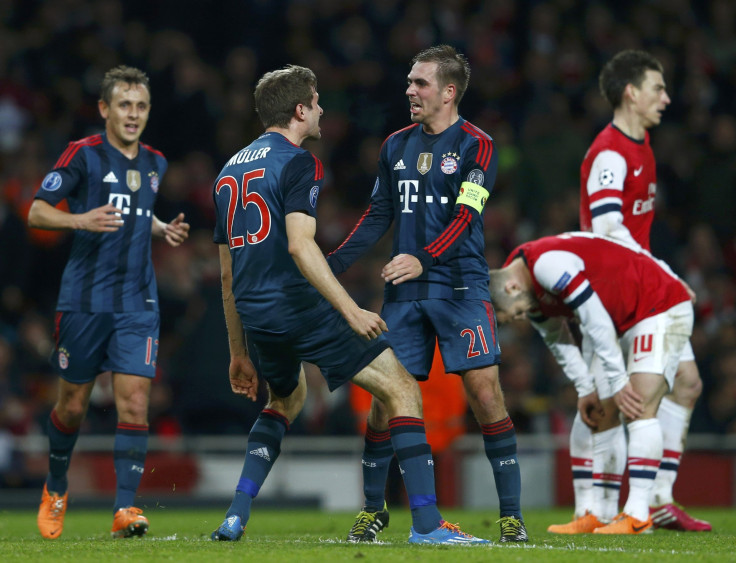 Debate rages on about the contribution of certain players and that of the referee in Arsenal's clash with Bayern Munich on Wednesday evening, but once the dust settles one stark fact remains clear: If Arsenal are to avoid a fourth straight Champions League exit at the round of 16 they will have to at least repeat their 2-0 victory in the Allianz Arena 12 months ago.
That Arsenal face almost as ominous a task as on their visit to the Allianz Arena last season is something with which they have just cause to feel aggrieved. In contrast to the 3-1 defeat at the Emirates a year ago, when they were utterly outclassed, on this occasion Arsenal genuinely rattled a Bayern side that came into the fixture looking almost unstoppable.
Arsene Wenger's men did exactly what was required in banishing their recent lethargic starts and beginning the match with a rampant intensity. Had Mesut Ozil been less cute from the spot and Arsenal had crucially capitalized on their early superiority then who knows what might have transpired. The same wonder of what might have been exists regarding the sending off of Wojciech Szczesny. The decision, which was surely the correct one, left Arsenal with the daunting prospect of playing more than 45 minutes with a man down against a side perhaps better than any right now at having both the quality and nous to find space on the pitch.
While we'll never know, there were clear signs that Bayern were beginning to change the tide firmly in their favor as they put Arsenal under mounting pressure. The penalty and sending off was a product of that. Ultimately, Bayern, there can be little doubt, are the superior side.
Still, we knew that before the match. What we did find out was that Arsenal are capable of causing the European champions some genuine concern. Because Bayern are so good at keeping the ball and because they are so proficient at winning it back quickly, their central defense is rarely tested. The way Arsenal got at them, particularly Jerome Boateng, once again showed that they are not as good as their incredible defensive record (just nine goals conceded in 21 Bundesliga games) would suggest.
To have any chance of finding similar cracks and pulling off a famous comeback, Arsenal will have to play with a similar intensity at the Allianz Arena. Only this time they will need to make it count on the score-sheet. Get an early goal and the tie would take on a very different complexion.
It would none the less remain a massive task with the wealth of ways in which Bayern can prize teams open and with Franck Ribery set to come back into the side. Arsenal will be hoping that Bayern provide them a helping hand with a performance of similar uncertainty and as they produced when defending a two-goal advantage last season. They are likely to be disappointed.
Not only do Bayern have the experience of that night to fall back on, but they have a coach who is brimming with fire and focus. At Barcelona, Pep Guardiola always gave the impression of keeping cool, calm and collected and by the end of his time at the Camp Nou he seemed beaten down by the weight of the job. His hiatus appears to have done the necessary trick in recharging the batteries. Watching him on the sidelines at Bayern and in clips released of training sessions over the winter we see a man not prepared to accept even a second of complacency from his players. That Bayern have such a deep and evenly-matched squad in terms of quality also means that their players know that a bad performance could see them out of the team.
Arsenal could certainly unsettle Bayern again, perhaps even get a goal to the good, but the Bavarians now have too much experience and too much quality. Bayern should not only be able to quell the Arsenal tide but to exploit the inevitable gaps that will appear as their opponents push forward. Ultimately, while Arsenal will again be able to take some comfort from their efforts, the competition favorites should progress with something to spare.
Prediction: Bayern Munich 2-1 Arsenal
© Copyright IBTimes 2023. All rights reserved.