VIDEO Arsenal 0-2 Bayern Munich: Highlights; Kroos And Muller Goals Give Bayern Big First-Leg Advantage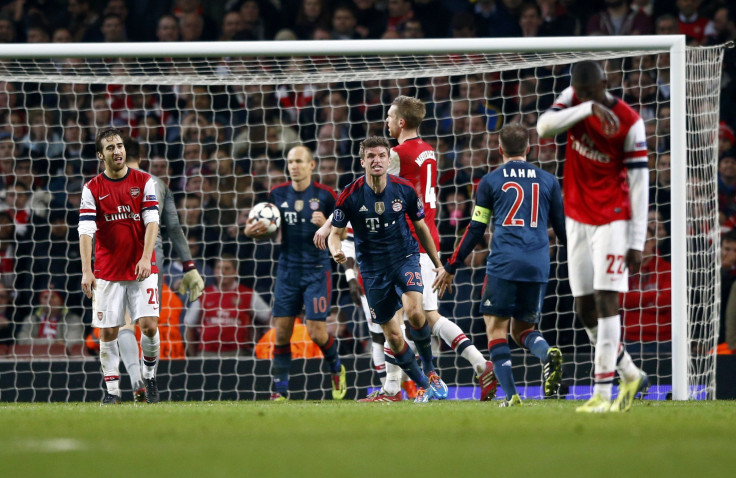 Bayern Munich took advantage of their numerical advantage to grab a crucial 2-0 lead over Arsenal to take back to the Allianz Arena in their Champions League last-16 tie. A fine Toni Kroos strike and then a late header from Thomas Muller saw Bayern capitalize fully on their dominance after Arsenal had been reduced to 10 men in the 38th minute when Wojciech Szczesny was dismissed for taking down Arjen Robben in the box.
Arsenal had escaped further immediate punishment as David Alaba missed his penalty -- the second chance wasted from the spot in an enthralling opening half. The home side had defied their recent downturn in form to have the Emirates crowd in raptures in the opening minutes with a rousing start that had the European champions looking genuinely ragged. Crucially, though, they failed to take full advantage of their intense opening. Having won a penalty, Mesut Ozil ambled up to the ball and tried a delicate effort that Manuel Neuer comfortably repelled.
While the pace slowed and Bayern grew into the game, Arsenal will reflect on what might have been had they been allowed to remain at full strength. Bayern, a relentless force with 11 men, proved far too much for Arsenal to handle with 10. Arsenal tried desperately to keep the tie in the balance in a damage limitation exercise, yet Bayern's quality, with the hugely influential Philipp Lahm moved into midfield to join the brilliant Kroos, was overwhelming. Muller's goal two minutes from time to add to Kroos's majestic strike will surely prove too much for Arsenal to overcome, despite memories still being fresh of the Gunners' 2-0 win at the Allianz Arena 12 months ago. It is hard to imagine Bayern being so complacent this time around.
Arsene Wenger had made two bold selections in his starting lineup, possibly for different reasons, in selecting the thrust of Alex Oxlade-Chamberlain over the experience of Tomas Rosciky and, more surprisingly, the youthful vigor of Yaya Sanogo over Olivier Giroud.
Both played their part in Arsenal's superb start, which was arguably the best they had produced since they blew Napoli away in the opening 15 minutes last October. Sanogo's pace and physicality, which not even he always appeared entirely in control of, was causing a shaky Bayern defense ample problems. It took a sensational one-handed stop from Neuer in the seventh minute to deny the young French striker low down to his left.
Just a minute later Arsenal would have a golden chance to make their blistering start count on the score-sheet. The equally impressive Jack Wilshere went driving forward and slipped the ball through to Ozil, who beat Jerome Boateng with a fine piece of skill. The Bayern defender's only answer was to hang out a leg and bring his fellow Germany international to the ground.
Ozil took an almost non-existent run-up as he played a waiting game with the man he spent much of his formative soccer education alongside. His battle of nerves backfired as Neuer came out on top by standing up long enough to bat Ozil's dinked effort to safety.
The miss took some of the gusto out of Arsenal's rampant start. Bayern were able to get a foothold in the match and slow it down to a pace more favorable to their short-passing game. Still, Arsenal were keeping their formidable opponents impressively at bay and continuing to pose a threat on the break.
The hosts suffered another blow, though, when Kieran Gibbs was forced off with an injury just past the half-hour mark, which meant Nacho Monreal coming on in his stead. The alteration coincided with Bayern putting Arsenal under concerted pressure for the first time. And it was the left side that Monreal was occupying where Bayern were targeting, as the visitors overloaded that side of the pitch. The Spaniard was crucially found wanting in the game's and quite possibly the tie's decisive moment.
Kroos chipped the ball over the top perfectly for the run of Robben who was left completely unchecked by Monreal. With a degree of recklessness, Szczesny came charging from his goal to take down the Bayern winger after the ball had been touched past him. Under the rules, the double blow of a penalty and a red card was the only option.
Both Santi Cazorla, in ambling off, and Fabianski, in getting a long feel of the ball after replacing him, ensured Alaba would be made to wait as long as possible to take the spot kick. The strategy paid dividends with the Austrian side-footing against the outside of the post to keep the score, if not the personnel, level.
It remained a formidable task faced by Arsena,l against opponents perfectly equipped to wear them down and drag the 10 men out of position. It continued to be Arsenal's left side, now with Mesut Ozil struggling to perform his defensive duties on the flank, that Bayern focused upon.
Nine minutes into the second half they cracked. Kroos, scorer against them in a 3-1 win at the Emirates last season, had already provided two reminders earlier in the contest of his shooting pedigree from outside the box. Again, though, Arsenal failed to get close enough to close him down. The midfielder met Lahm's pass back from the right with a strike of majestic technique that simply guided the ball into the top corner.
Lahm, who had been moved into midfield at half time, with Rafinha coming on for Boateng and Javi Martinez dropping into the center of defense, simply ran the game alongside Kroos. Arsenal were now merely holding on for the relief of the final whistle. Arjen Robben came close on a number of occasions to increasing Bayern's lead. A volley lacking in conviction that Fabianski saved was his best chance, while he was twice inches away with his trademark curling left-footed strikes after cutting in from the right.
To his credit, Guardiola was intent on capitalizing as much as possible on his side's numerical edge. The decisions to bring on Muller and then striker Claudio Pizarro paid huge dividends. Muller's ability to run from deep brought about the second goal as his move into the area went unchecked and Lahm's delightful pass found him perfectly. Unerring in front goal, Muller headed down into the corner of the net to make Bayern massive favorites to continue their attempts to become the first club to defend the European Cup in the Champions League era.
It may well be that Arsenal would have ultimately been outclassed anyway, but they can still reflect on a encouraging performance that was fatally derailed before halfway.
© Copyright IBTimes 2023. All rights reserved.