Arsenal Vs. Wigan: Prediction And Preview For Saturday's FA Cup Semifinal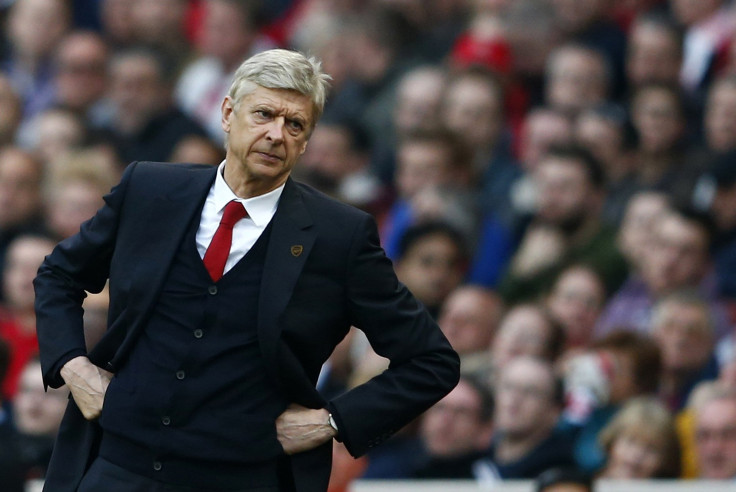 Both Arsenal and Wigan have been here before. The last time Arsenal came this close to ending their much-discussed trophy drought they headed to Wembley as overwhelming favorites, as they will do again in Saturday's FA Cup semifinal. The performance descended into a coaching manual in calamity, with a woeful defensive mishap gifting the soon-to-be-relegated Birmingham City the League Cup.
Wigan's most recent visit to Wembley could not be more sharply contrasted. Just last season, Wigan were on the verge of relegation heading into last year's FA Cup final against the might of Manchester City but their greater coaching and togetherness won them the trophy thanks to a famous late goal from Ben Watson.
Now in the Championship, should Wigan prevail against Arsenal on Saturday then it would arguably be an even greater achievement. And the ingredients are once again coming together for a famous cup upset.
Like City last season, a dark, uncertain cloud hangs over Arsenal. It has been a chastening past few weeks for the club, with the fate of their season and indeed the future of manager Arsene Wenger now seemingly in the balance. The campaign could yet end with a first trophy in nine years and a 17th consecutive season in the Champions League. However, a comprehensive defeat at Everton last week continued their pattern of capitulating extraordinarily when coming up against leading opposition to leave their top-four hopes now out of their hands.
While failing so miserably against their rivals, Arsenal have been remarkably efficient in disposing of the teams who they are supposed to beat. The worry is that the confidence in the squad has been so dented by their humbling experiences in recent weeks that it dents their ability to do even that. A 6-0 loss at Chelsea last month was followed by a late collapse to throw away a win at home to Swansea that was eerily familiar to that day at Wembley three years ago.
Whereas Wenger has overused the psychological explanations for his side's defeats, ignoring his own tactical failings in the process, their ability to beat Wigan will depend much on their mental state. Simply turning up and looking to impose their own style, which has proved so insufficient against their rivals, will likely be enough to beat Wigan should they be mentally able to play near their potential.
That does not mean that Wigan manager Uwe Rosler will not try to tip the balance in his side's favor tactically. The impressive German coach has been touted in some circles as a possible replacement to Wenger down the line and enjoyed his finest moment to date in the FA Cup quarterfinal when his decision to adopt a three-man defense proved pivotal in Wigan upsetting Manchester City at the Etihad. It was far from a desperate backs-against-the wall performance typically relied on by underdogs.
Whether the former Manchester City striker adopts a similar approach against Arsenal will be intriguing. The strategy largely worked against City because they are -- or were at the time -- one of the few sides still playing with two orthodox strikers. Arsenal won't play that way. Moreover, on one of the few occasions that Arsenal have come up against a team playing three at the back this season, they comprehensively beat Liverpool, outnumbering them both down the flanks and in the middle. (Admittedly, Liverpool played with two strikers, which Wigan are unlikely to do.) Whatever Rosler comes up with, it is highly probable that he has spent much more time this week thinking of the specifics of Arsenal's team than Wenger has of Wigan's.
Yet, while Wigan went into their meeting with Manchester City on a high, having won their last five fixtures, they have now won just once in their last five, even if they remain fairly safely ensconced in the Championship playoff places. It may well be a case of Wigan, understandably, beginning to tire having played an extraordinary amount of games this season, given their FA Cup run and Europa League participation on top of their 41 league games.
Not that Arsenal are looking any fresher. An injury list that continues to grow means that Wenger has little choice to rotate his players. Tomas Rosicky, Kieran Gibbs and Alex Oxlade-Chamberlain are all doubts for Saturday, on top of their existing absentees -- Jack Wilshere, Laurent Koscielny, Mesut Ozil, Theo Walcott, Abou Diaby and the suspended Mathieu Flamini. Wenger has stated that Aaron Ramsey will start for the first time since his long layoff and the same energy that he displayed when coming off the bench against Everton will be much needed.
It is unlikely to be a comfortable day for Arsenal fans or one to fire their season back into life, but, while another Wembley catastrophe cannot be ruled, out, Wenger's side should just have enough to secure a return to the home of English soccer next month.
Prediction: Arsenal 2-1 Wigan
© Copyright IBTimes 2023. All rights reserved.