Arsenal News: Arsene Wenger's Fate To Hinge On Top 4 Finish In Premier League And FA Cup Success?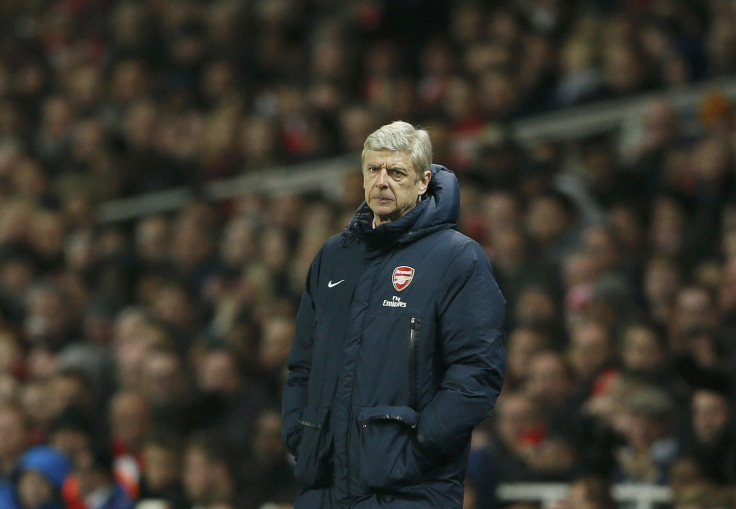 It was a season that began with so much promise. With the Premier League's top three sides from the previous campaign under new managers, the stability at Arsenal, where Arsene Wenger was in his 18th season in charge, appeared that it could give the Gunners an edge and a first championship in a decade.
Not only was continuity standing Arsenal in good stead, but, after years of penny-pinching due to a new stadium, the club was finally able to spend on a level with their rivals. Mesut Ozil's £42 million arrival fuelled optimism all around the Emirates. There was some sparkling play in the early weeks of the season, while Arsenal were also doing a far better job than any other team of efficiently knocking off lower-quality opposition.
But optimism has faded quickly and dramatically. When Arsenal visited Anfield on Feb. 8, they had the chance to go eight points clear of Liverpool in the standings. But after a 5-1 loss on Merseyside, nine games later they trail the now league-leading Liverpool by 10 points. It has been a stunning decline and one for which excuses are hard to come by.
For much of the past nine years, there were certainly plausible explanations for Arsenal's lack of trophies. While Arsenal were adhering to a strict budget and placing their emphasis on youth, the likes of Manchester City and Chelsea came along with almost unlimited budgets prepared to blow the opposition out of the water in the transfer market.
What makes the past few weeks so galling from an Arsenal point of view is how they have been so comprehensively shown up by a side like Liverpool, who have not relied on massive investment. Instead Brendan Rodgers's coaching and tactical knowhow has made the difference to a young squad who only finished seventh last season.
While Wenger continues to try and pin the responsibility for defeats onto the mentality of his players, it is increasingly clear that the predominant cause is his tactical instructions, or rather lack of them. Having been out-thought by Rodgers, Roberto Martinez did likewise in Everton's 3-0 victory at Goodison Park on Saturday to leave Arsenal's Champions League hopes in the balance.
Arsenal have conceded an extraordinary 20 goals in their away matches against the other members of the Premier League's top five this season. With every heavy loss there has been no change in approach from Wenger. A refreshing innovator on his arrival in England, he now looks an outdated ideologue.
Wenger seemingly would rather lose with his strict stylistic philosophy intact, rather than modify it in any sense. It wasn't always this way. The likes of Patrick Vieira previously gave Arsenal an avenue to still win "ugly" on occasion, as they did to seal their last trophy in Vieira's final match for the club in the 2005 FA Cup final.
Now they are all-too acquiescing to their opponents, and all-too predictable in their approach. In contrast to Wenger, opposition coaches have designed particular strategies to combat Arsenal's weaknesses. Rodgers, painted as a slave to possession statistics earlier in his career, threw off those shackles and hit Arsenal repeatedly with early balls forward in transition. In addition, Liverpool had Luis Suarez in an unusual wide-right position to expose Arsenal's weakness down that side. Everton and Martinez delivered a similar approach at the weekend -- favoring quick transitions over possession and having Romelu Lukaku stay high on the right. On both occasions Arsenal failed to respond.
Injuries have, of course, played their part, but they are arguably now another symptom of Arsenal's problems not a cause. Consistently in recent years, Arsenal have been around the top of the Premier League's injury table. For a manager who talks repeatedly of players' "red zones," in relation to their increased likelihood of picking up injuries, few managers appear to push their players into it so often. A lack of faith in the depth of his squad could certainly be a reason for that.
While there are plenty of things which can improve, the foundations remain incredibly healthy at the club. When fully fit, Arsenal have the basis of an exceptionally talented squad, many of whom should now be entering the prime of their careers. And there remains a chance for the season to end on a real high. Aaron Ramsey returned against Everton and should be joined back on the pitch by Ozil in the coming weeks. In addition, Arsenal's run-in is considerably more favorable than Everton's, which is particularly pertinent given how good the Gunners have been against lower-ranked teams. They also have the small matter of an FA Cup final this weekend which they are strong favorites for, as they will be for the final should they reach it.
A fourth-placed finish and a trophy could certainly be interpreted as progress. There would still be a need for changes -- notably to stop penny-pinching in the transfer market when the money is now clearly available, but arguably more importantly for Wenger to prepare his side differently for the big games. Still, there would be a mandate for Wenger to continue and a reason for optimism heading into next season.
However, should they end their 16-year run in the Champions League, especially if they slip up in the FA Cup as well, then Wenger, if not Arsenal, could well feel that a natural break point has been reached. Wenger has been a legendary manager not just for Arsenal but in the history of English soccer, yet, either he now needs to adapt or the club will have to do so without him.
© Copyright IBTimes 2023. All rights reserved.