Attorney General Jeff Sessions Can Be Impeached If Found Guilty Of Perjury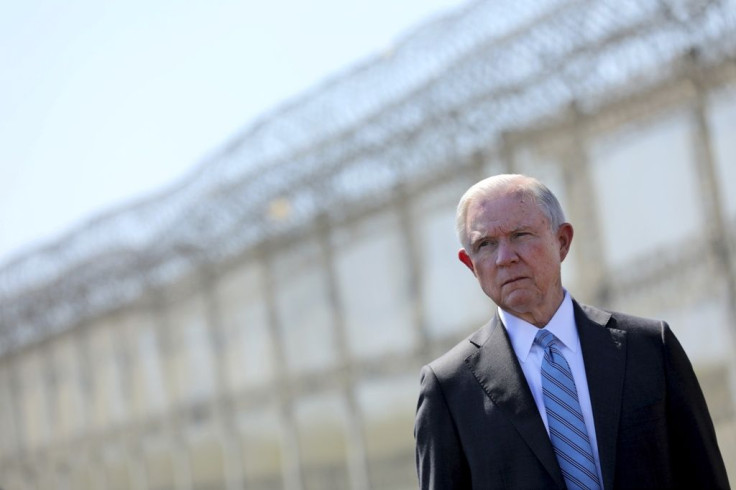 Attorney General Jeff Sessions is at risk of being impeached by Congress if found guilty of lying under oath, especially after reports said he had communications with a Russian ambassador during the 2016 presidential campaign.
Section 4 of Article II of the U.S. Constitution states: "The president, vice president and all civil officers of the U.S., shall be removed from Office on Impeachment for, and conviction of, treason, bribery, or other high crimes and misdemeanors."
Read: Did Jeff Sessions Get Trump To Fire FBI Director James Comey Amid Russia Probe?
While Sessions testified to the Senate in January saying he did not have any contacts with the Russians throughout the presidential campaign, congressional investigators are probing whether he had a third meeting with Russian Ambassador Sergey Kislyak at the time, CNN reported Wednesday, citing sources.
Sessions is a civil officer, and if found guilty of perjury, he could be impeached. The president also holds the power to dismiss the attorney general.
Republican and Democratic Hill sources and intelligence officials told CNN congressional investigators are particularly looking into whether Sessions and Kislyak met April 27 last year at the Mayflower Hotel in Washington, D.C., where Trump gave his foreign policy address. Both Sessions and Kislyak were present at a reception with organizers and diplomats ahead of the speech.
However, the Justice Department denied any such interaction happened between Sessions and Kislyak at the Mayflower Hotel.
"The Department of Justice appointed a special counsel to assume responsibility for this matter," Justice Department spokeswoman Sarah Isgur Flores told CNN in a statement."We will allow him to do his job. It is unfortunate that anonymous sources whose credibility will never face public scrutiny are continuously trying to hinder that process by peddling false stories to the mainstream media."
"The facts haven't changed; the then-Senator did not have any private or side conversations with any Russian officials at the Mayflower Hotel," Flores added.
Separately, Sen. Al Franken (D- Minnesota) told MSNBC's Lawrence O'Donnell on "The Last Word" late Wednesday, he sent a "private letter" to then-FBI Director James Comey to look into the "fact Sessions had met other times with Russians, including this meeting that we're talking about in the Mayflower."
"In fact, Sen. [Patrick] Leahy whose also on the Judiciary Committee and I sent a private letter to then-CIA Director Comey, sorry, FBI Director Comey asking him and the FBI to investigate whether, in fact, Sessions had met other times with Russians including this meeting we're talking about in the Mayflower," Franken said on the show.
"Now it had been characterized one way, but we had some reason to believe that it -- that wasn't the case. It had been described in a way that he could plausibly say I don't remember that. But what's coming out today I believe is that that may not be the case. And if this the true, that would be extremely disturbing," he added.
Sessions made headlines in March after a Washington Post report said, citing Justice Department officials, the then-Alabama senator spoke to Kislyak in last July and September "at the height of what U.S. intelligence officials say was a Russian cyber campaign to upend the U.S. presidential race."
Following the Post report, the attorney general agreed to have been in touch with one Russian official a couple of times but maintained the meetings had nothing to with sharing of information. He also recused himself from matters related to a federal probe into Russia's meddling and likely collusion with Trump's associates during the presidential campaign.
"Let me be clear: I never had meetings with Russian operatives or Russian intermediaries about the Trump campaign," Sessions said at the time. "The idea that I was part of a 'continuing exchange of information during the campaign between Trump surrogates and intermediaries for the Russian government' is totally false."
"In retrospect, I should have slowed down and said, 'Yes, I did meet with one Russian official a couple of times,'" the attorney general said. He added that he recused himself from investigations into President Donald Trump's presidential campaign and its alleged contact with Russians.
At the time, several Democrats had called for Sessions' removal from the office. Some also said he should have stepped down instead of recusing himself.
After the CNN report, Rep. Ted Lieu (D-California) said Sessions committed "big time perjury" if he did not disclose his third meeting with Kislayk.
"If Sessions-Kislyak story is true, it shows Sessions didn't just commit perjury, he committed big time perjury. Why is he still in office?" Lieu tweeted.
© Copyright IBTimes 2023. All rights reserved.