Will Jeff Sessions Resign Over Russian Contacts? ACLU Files Ethics Complaint Against Attorney General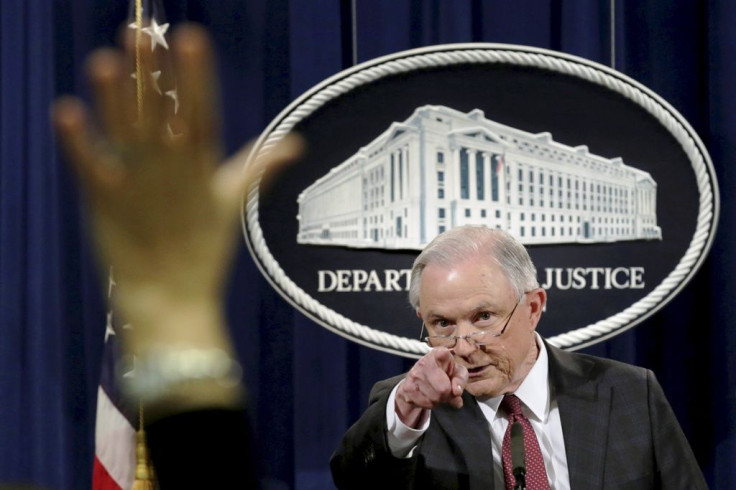 An American Civil Liberties Union (ACLU) lawyer asked the Alabama State Bar, in an ethics complaint filed Thursday, to determine if Attorney General Jeff Sessions violated the Alabama Rules of Professional Conduct while giving a testimony to the Senate Judiciary Committee rejecting claims of any contact with Russian officials.
"Jeff Sessions told a falsehood to the Senate, and did nothing to correct his statement until he was exposed by the press more than a month later. No attorney, whether just starting out as a new lawyer or serving as the country's top law enforcement officer, should lie under oath. The Alabama bar must investigate this wrong fully and fairly," Christopher Anders, deputy director of the ACLU's legislative office, who filed the complaint, said in a statement.
Read: Al Franken Calls Jeff Sessions' Russian Contacts Explanation 'Ridiculous'
In January, during his confirmation hearing, Sessions testified under oath saying he "did not have communications with the Russians" throughout the U.S. presidential campaign. However, the Washington Post reported on March 1, citing Justice Department officials that Sessions — who was still Alabama senator — was in touch with the Russian ambassador Sergei Kislyak. According to the officials, the attorney general spoke to Kislyak in July and September "at the height of what U.S. intelligence officials say was a Russian cyber campaign to upend the U.S. presidential race."
On March 2, Sessions held a press conference, in which he agreed to have been in contact with one Russian official a couple of times.
"Let me be clear: I never had meetings with Russian operatives or Russian intermediaries about the Trump campaign," Sessions said at the time. "The idea that I was part of a 'continuing exchange of information during the campaign between Trump surrogates and intermediaries for the Russian government' is totally false."
"In retrospect, I should have slowed down and said, 'Yes, I did meet with one Russian official a couple of times,'" the attorney general said. He added that he recused himself from investigations into President Donald Trump's presidential campaign and its alleged contact with Russians.
Following this, Democrats have called for Sessions' resignation. Also, according to a Quinnipiac University released Wednesday, 52 percent of respondents voted that Sessions lied under oath. Another 51 percent of voters said that he should have stepped down after admitting instead of recusing himself.
© Copyright IBTimes 2023. All rights reserved.