August 2014 US New Auto Sales: Highest Annualized Rate Since Early 2006; Chrysler, Nissan Lead, GM Hit By Slow Sedan Sales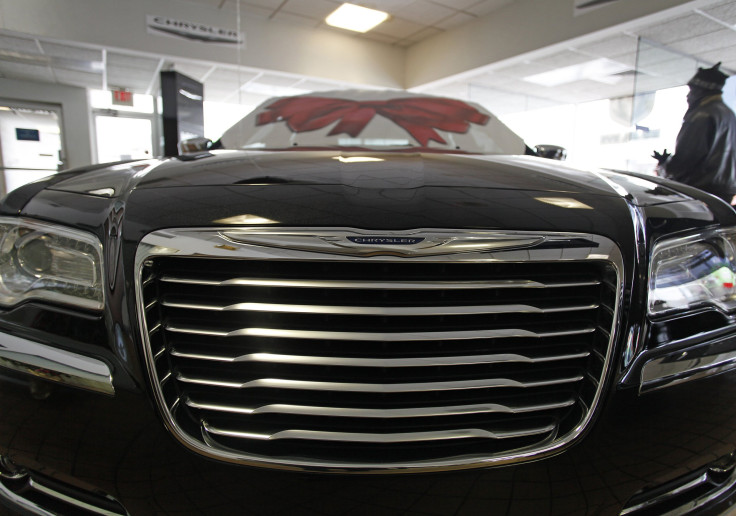 Click here for the August 2014 U.S. new-auto sales forecasts and see how they compare to the actual numbers.
Many auto industry analysts will increase their 2014 forecast for full-year U.S. new-car sales after seeing August's numbers. Lured by zero-percent financing offers and higher cash incentives, U.S. consumers sent auto sales well past expectations. Chrysler Group LLC and Nissan North America Inc. were the big winners for the month, but the other "Big 8" automakers managed to do better than expected despite the one less selling day compared to August 2013.
August new-car sales came in at 1.59 million vehicles, up 5.5 percent overall compared to August 2013. The annualized selling rate topped 17.5 million, a number unseen since January 2006. Consumer confidence hit a seven-year high last month and this was played out at car dealerships over the three-day Labor Day weekend, typically the strongest selling event of the year.
"The fundamentals are still there to continue to drive sales, but I don't expect September and November to be as strong," Alec Gutierrez, senior market analyst for the automotive pricing and industry data provider Kelley Blue Book, said in a conference call Wednesday. "There's always a slowdown after August."
Helping fuel the accelerating sales is a higher inventory, specifically 72 days' worth of stock compared to 60 days last year. (Sixty days is considered an ideal balance, so inventory levels are currently higher than they should be.) This helped edge cash incentives upwards by an average of about $240 per vehicle sold, to about $2,700, according to automotive pricing and industry data provider TrueCar, Inc.
Transaction prices went up, too, as these offers encouraged buyers to spend an average of about 2 percent to 3 percent more per vehicle than last year to about $31,600 per vehicle.
Buyers continued to step into higher-priced utility vehicles, which helped Chrysler and General Motors Co. (NYSE:GM). Nissan Motor Co. Ltd. (TYO:7201) did well in its core sedan models, like the Altima, despite overall lower demand than usual in the four-door car segment, something that adversely impacted other car companies, especially GM. Consumers continue to move toward SUVs and crossovers, which means the best car-buying deals right now will be 2013 and 2014 four-door compact and mid-sized sedans.
The U.S. luxury car market seems to be falling to the Europeans as Cadillac, Lincoln and Infiniti all saw significant drops in sales.
"Cadillac is the brand I would be concerned about," Michelle Krebs, senior analyst at AutoTrader.com, said in a Wednesday conference call. "The CTS is new and the ATS is not very old. They're core models that go squarely against the Germans and they're not doing very well."
Newer cars, like the Chrysler 200 and the latest Hyundai Sonata, showed strength as buyers were lured to the newest in a flooded market for mid-sized sedans.
Ford Motor Co. (NYSE:F), which is in an important transition year preparing production of the upcoming aluminum body F-Series pickup. Rivals, especially GM, took this opportunity to steal away truck business from Ford.
American Honda Motor Co. Inc. was expected by industry insiders to sell fewer cars in the U.S. last month but instead it eked out a 0.4 percent boost (to 167,038 units), despite drops in demand for the Civic compact and CR-V crossover, two best-selling vehicles in the Honda Motor Co. Ltd. (TYO:7267) arsenal. Honda executives are typically loath to engage in cash incentive battles, so sales growth was adversely impacted in part by rivals' willingness to boost deal sweeteners, such as rebates.
Toyota Motor Sales U.S.A. Inc. came in behind Chrysler and Nissan, posting a 6.3 percent jump in sales last month to 246,100 vehicles, the company's best-ever August performance, it said. Unlike luxury car brands from its Japanese and American rivals, Toyota said Lexus had a second record-setting month in a row. Lexus car sales jumped 9 percent, while its utility vehicle mix leaped nearly 12 percent. Right now, Lexus appears to be holding its own against European entry level luxury cars.
Kia Motors America said sales jumped 5.1 percent on stronger demand compared to August 2013 for the Kia Soul compact. Kia's partner, Hyundai, said it broke a record in August with a 5.5 percent rise to 70,003 units on strong demand for its redesigned Sonata.
The U.S. auto market has been on a tear since 2011 and is in line to hit pre-recession levels. But at what cost? Borrowing is at record highs, incentives are up and inventory is close to unhealthy levels, risking future production slowdowns. Most industry watchers expect 2015 to continue to ride the wave of post-recession recovery, but a slowdown seems inevitable. Despite the good news, four of the 'Big 8' automakers lost sales or were virtually flat during a month where sales are historically strong.
© Copyright IBTimes 2023. All rights reserved.