Ax-Wielding Insane Clown Posse Fan Arrested After 3-Hour Standoff With Police Over Song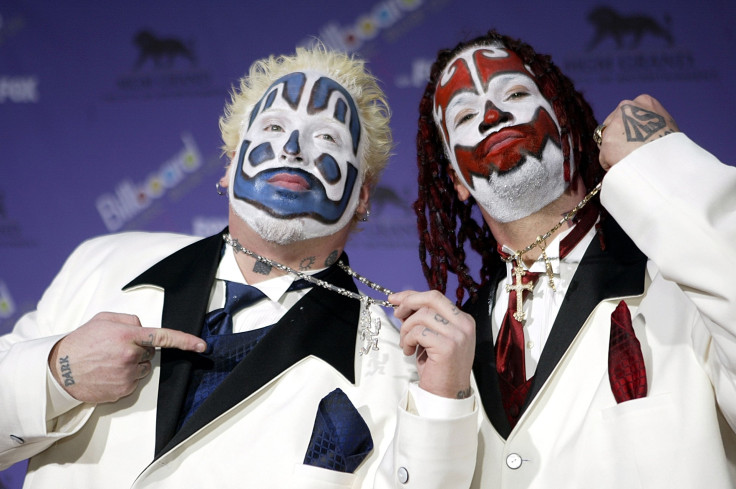 The band Insane Clown Posse (ICP) are known for their devoted fan base, but one fan had an ax to grind.
Richard Newton drove to a Boston radio station KISS 108 headquarters Monday afternoon and demanded the song "My Axe" be played by the rock station as he brandished an ax. The incident lead to a three-hour standoff with the police, SWAT team and crisis negotiator.
Police responded to a call that a Newton, a 38-year-old Massachusetts resident, was driving through the parking lot in front of the Medford Business complex with "several edged weapons" Monday afternoon, according to NECN.
A witness told NBC Boston that Newton asked for directions to the iHeart Radio section of the complex, entered the building, and requested the song "My Axe" with his own weapon in hand. After a three-hour standoff with the police, Newton was brought away safely in handcuffs.
READ: Ann Coulter Praises 'Very Macho' Paris Police For Shooting Hammer Attacker In 'Thorax'
Newton was unsuccessful in his attempt to get his song played, and returned to his car, loudly complaining to random people on his way to the parking lot. "Once inside his car, he rammed a responding police vehicle and threw his ax out the vehicle's window, though it did not hit anyone," according to a report by the New York Daily News Tuesday.
"He definitely was talking about requesting a song," said Dylan Sprague, vice president of the programming with iheartradio.com, according to the Boston Herald. Sprague added that Newton never actually contacted the studio to request the song.
Police reportedly tried to negotiate with him by cell phone and through the car window, but his actions became more erratic. At one point he got out of the vehicle and said: "I guess you're just going to have to kill me."
Authorities unsuccessfully attempted to taser him.
READ: Paris Attacks Prompt Online Hoax: Sikh Man Photoshopped To Look Like Bomber
Lt. Joseph Casey of the Boston Police said that the initial report was that a person was driving around in the development with weapons and that he surrendered peacefully and was hospitalized for a mental evaluation. It is unclear whether he will be charged.
"The initial reports we got was for a vehicle in this Cabot Road business development. The operator of the vehicle was driving around wielding several edged weapons," Casey said. "He refused to stop for the officers ... until he was boxed in."
"We had less-than-lethal weapons that we deployed to attempt to subdue the subject, but those efforts were not successful," Casey said. "There was a Taser. And we did have a less-than-lethal beanbag shotgun weapon on hand, as well as long-armed weapons in case the situation became more volatile."
© Copyright IBTimes 2023. All rights reserved.