Badger Tragedy: Daughters Mourned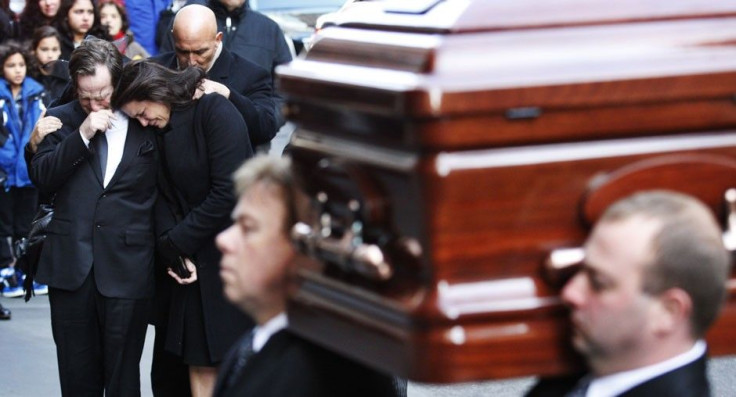 The funeral for the three young girls that perished in the Christmas Day fire was held Thursday, gathering more than 1,000 mourners.
The heartbreaking tragedy claimed the lives of five of the seven people who were in the house that morning including 9-year-old Lily Badger, twin 7-year-olds Grace and Sarah Badger, as well as grandparents Lomer and Pauline Johnson. The sole survivors of the fire were fashion advertising executive Madonna Badger and her boyfriend Michael Borcina.
The funeral, which took place at St. Thomas Episcopal Church, gathered about 1,000 mourners, including some celebrities. Calvin Klein, Phillip Seymour Hoffman and Lou Reed were in attendance and singer Rufus Wainwright performed Somewhere Over the Rainbow at the service.
Timetable to Tragedy
Around 3:00 a.m. embers from the fireplace were disposed of after the girls expressed fear that Santa wouldn't be able to make it safely down the chimney with them there. The embers were placed outside in the rear of the house where there is a mudroom and trash enclosure. Firefighters have determined the embers to be the cause of the fire.
The first 911 calls came in around 4:50 a.m. after neighbors heard screams coming from the house.
Firefighters arrived on the scene but were unable to rescue the three girls or their grandparents. Four firefighters were injured trying to rescue the family from the blaze.
Grandfather Lomer Johnson had attempted to rescue one of the granddaughters. The two bodies were found near each other and were inches from survival, reported The New York Post. Borcina led the other two girls down from their third-story bedrooms down to the second-level but the girls panicked and ran into the direction of the fire, reported The New York Daily News. The bodies of the two daughters were later found on the second floor.
© Copyright IBTimes 2023. All rights reserved.