Barack, Michelle Obama's Daughter Malia Spotted With Her Boyfriend In NYC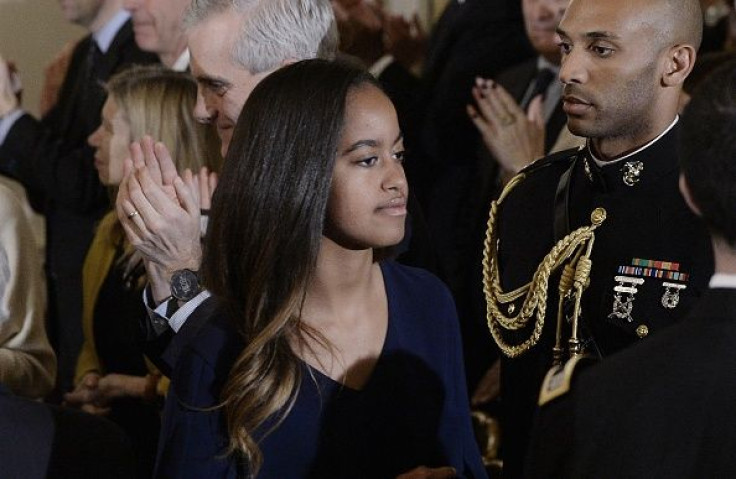 Malia Obama is all grown up – and dating!
Barack and Michelle Obama's eldest child was recently spotted in New York City with her boyfriend, Rory Farquharson. The couple was photographed strolling through New York's Soho last weekend.
In the photos released online via News.co.au, Malia is wearing an oversized black jacket, a red orange dress, black Dr. Martens boots and black stockings. She is also holding a bottle of water. Farquharson, on the other hand, is wearing an electric blue jacket, grey shirt and black pants. He is holding his phone in one of his hands.
Another photo showed the two sitting on a bench and talking to each other. Malia had a huge smile on her face, and Farquharson was looking intently at her. News about Malia's dating life first made headlines in November after she and her boyfriend were spotted kissing each other at a college football game.
Malia and her boyfriend are both studying at Harvard. Before heading to the Ivy League school, Farquharson studied at the Rugby School in Britain. According to the Daily Mail, the prestigious school falls under the ranks of Harrow and Eton, the schools that Prince William and Prince Harry attended.
Last year, Malia's dad opened up about his daughter's dating lives and said that he's pretty relaxed about it. While speaking with WDCG radio, the former president said that his wife has been a good example to their kids so he's not worried about their choices.
"One is my wife – she's such a great example of how she carries herself, her self-esteem, not depending on boys to validate how you look or not letting yourself be judged by anything other than your character and intelligence. Hopefully, I've been a good example in terms of how I show respect to my wife," he said (via US Weekly).
Obama said that his kids also have secret service so when they invite their suitors to their house, they are surveillance 24/7. "There's only so much these guys can do!" he said.
© Copyright IBTimes 2023. All rights reserved.