Barcelona Transfer And Injury News: Neymar, Alex Song, Sergio Busquest, Dani Alves In Latest Reports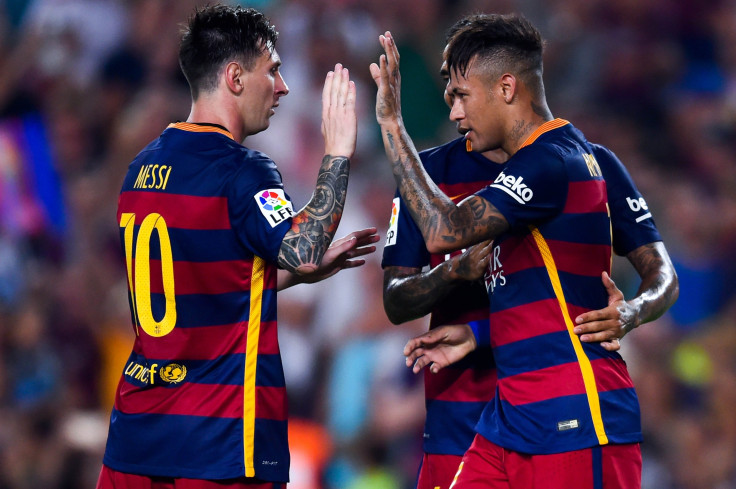 Reigning treble victors Barcelona eased any concerns about their overall fitness by opening La Liga play with a one-goal victory, but the Catalans do have some health concerns and even transfer speculation prior to Saturday's next matchup with Malaga at Camp Nou.
Luis Enrique's side slipped during the Super Cup lead-in matches, including a 4-0 drubbing from Bilbao, but Barcelona began their domestic campaign by avenging that loss with a 1-0 win at San Mames despite Lionel Messi's missed penalty.
But the win also resulted in knocks to Sergio Busquets and Dani Alves. Both injuries were at first feared to be serious, however Busquets's injured ankle reportedly won't keep him out against Malaga. Alves, however, does have a groin injury and is expected to miss the Malaga matchup and the squad has not elaborated on when he might return.
The questionable health of one of his top defenders is worrisome for Enrique, but the Catalans attack should be in full force with Neymar making his return following a three-week absence due to the mumps. The Brazilian talisman's return certainly makes up for the recent transfer of Pedro to Chelsea, and gives Enrique an extra body while Gerard Pique continues to serve his four-match suspension.
Neymar's La Liga debut also serves as a sign of encouragement that likely disparages any more speculation involving Manchester United's reported interest in the scoring machine. Several reports over the last week indicated the Old Trafford side were willing to spend anywhere north of £180 million for the 23-year-old, but Daily Mirror reports Barcelona are more likely to offer Neymar a new five-year contract.
The Catalans, still serving their FIFA incoming-transfer ban, and any speculation involving a Neymar exit should be taken with a grain of salt considering his crucial participation in the treble defense beside Messi and Luis Suarez.
But Barcelona are still allowed to sell players off, with midfielder Alex Song receiving the most recent attention. The 27-year-old tried to make his stay with Premier League's West Ham permanent, but Daily Mirror reports Song is back training at Camp Nou after failing to secure a deal.
Another report from The Sun claimed that Serie A's Juventus have placed a bid on Song. The Catalans were looking to move on from Song, who appeared in 28 matches with the Hammers last season, but with Alves down and Busquets injured, Enrique could keep the Cameroonian in a Barcelona kit before the transfer window shuts.
© Copyright IBTimes 2023. All rights reserved.