Barking Dog Leads Couple To Find Abandoned Baby In Their Backyard Shed; Father Arrested
KEY POINTS
The baby was found lying on the ground in the backyard shed
The child's father stole a truck belonging to the couple's neighbor
The man was arrested and charged with abandoning or endangering a child
A couple living in Texas found a baby abandoned by her father in their backyard shed. The baby was rescued and the father was charged in connection with the incident.
John and Katharine McClain, who are within the Livingston city limits but live away from the hustle and bustle, said they woke up Saturday morning to the sound of a truck driving away, KWTX reported Monday.
When they had a look at the security camera footage, they saw a mostly naked man checking the doors of their vehicle and eventually stealing their neighbor's truck.
"We called the neighbors and they reported it stolen," John told KHOU 11.
The McClains eventually discovered that the man in the footage did more than just steal their neighbor's car while in the area.
John noticed their dog, Archie, barking at something outside the house and decided to have a look inside their backyard shed. He then heard a baby's cry and soon discovered the child on the ground.
"When I opened it up (the door to the shed), the baby was laying right by the motorcycle right there," John said. He said he called out to Katharine and asked her to call 911.
"He said, 'Call 911, there's a baby,'" said Katharine, who first thought there might have been a baby snake or other animal inside their shed.
"He said, 'Call 911 quickly,'" Katharine told the outlet. "'There's an infant in here.'"
Katharine eventually took the child inside the house after the dispatcher said she could pick the baby up. First responders arrived at the scene and checked the child before she was shifted to the hospital.
"I'm a mom," Katharine added. "I was pretty frantic and just shocked. It's still kind of got me a little bit."
The child's father was later found behind the wheel of the neighbor's stolen truck. Officials booked him into the Polk County Jail on charges that include abandoning or endangering a child.
Investigators also found the father's own vehicle left near railroad tracks behind the house where John and Katharine live.
Security cameras on McClains' property captured the father holding the baby and entering the couple's shed before spending hours inside. The footage then showed the father exiting the shed and eventually driving off in their neighbor's truck.
John said he hopes the father will be able to take care of the child. "I just hope he comes out and takes care of his kids and cleans his act up."
If need be, Katharine said she is willing to give a home to the little girl.
"I just want her to be happy and live a good life, you know?" Katharine said. "If they gave her to me, I'll take her in a heartbeat. And she'll never have any worries again."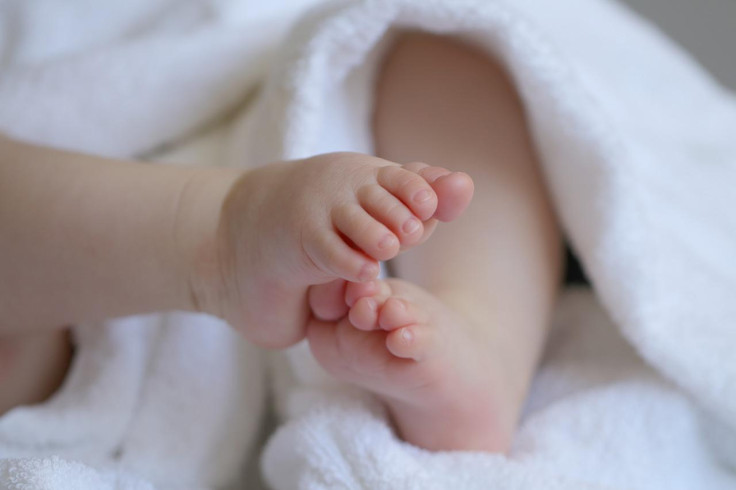 © Copyright IBTimes 2022. All rights reserved.
FOLLOW MORE IBT NEWS ON THE BELOW CHANNELS