'Bates Motel' Season 2 Premiere Date Announced; Norman And Norma Bates To Return To A&E March 3 [SPOILER ROUNDUP]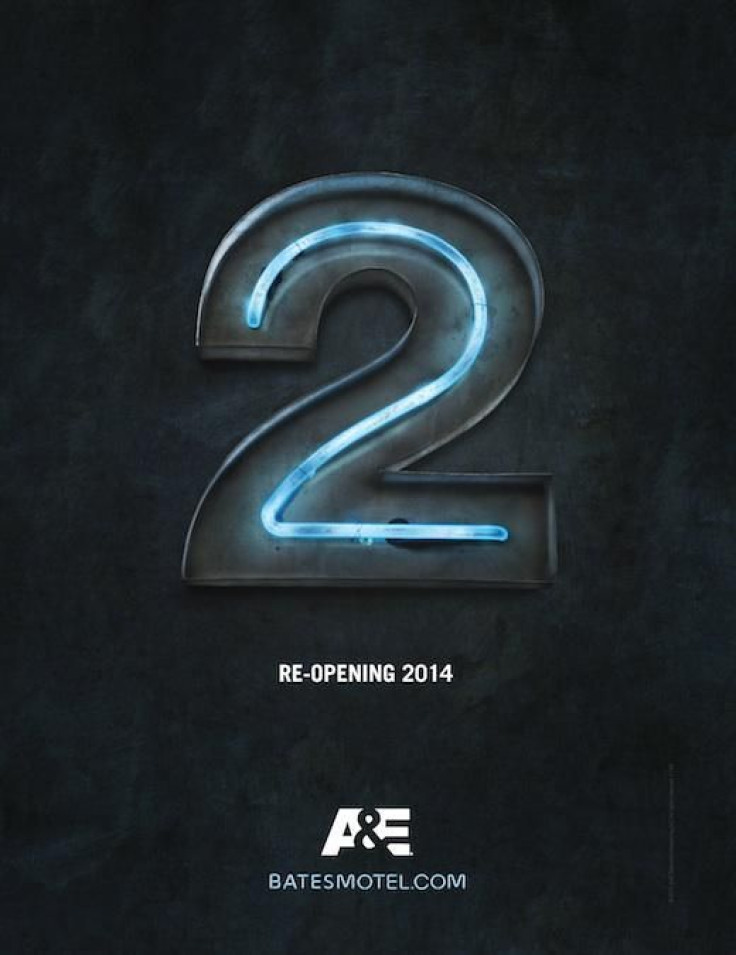 WARNING: SPOILERS AHEAD! Do NOT continue reading if you are not caught up on "Bates Motel" or don't want to know what will happen in season 2.
Are you ready to watch more of the Bates family drama? After teasing that "Bates Motel" would be "reopening" in 2014, the A&E "Psycho" prequel finally has a premiere date – Monday, March 3.
"Bates Motel" premiered on A&E network on March 18, 2013. Captivating its audience by telling the tale of a young Norman Bates (Freddie Highmore) growing up with his mother and half-brother Dylan (Max Thieriot), the series has fans patiently awaiting news on the season 2 premiere. After some "killer" new teasers and a lot of casting news, viewers can finally mark their calendars with the season 2 "Bates Motel" premiere date.
For those who have forgotten, "Bates Motel" concluded its 10-episode freshman season with Norman attending a school dance with Emma (Olivia Cooke). While the night should have been a fun one, it ended with Emma storming off after realizing that Norman was watching Bradley (Nicola Peltz) and her boyfriend the whole time. After he lost his only friend in town, Norman's night got worse when Bradley's boyfriend confronted him about taking advantage of his girlfriend after her father died. Getting punched in the face, Norman decided to walk home in the rain … where he was picked up by Miss Watson (Keegan Connor Tracy).
Miss Watson brought her student back to her home so she could clean up his face, telling him that no one must know that he was at her house. Watching his teacher get changed through a mirror in her room, Norman had one of his blackout spells, hallucinating his mother telling him that Miss Watson was trying to seduce him. "Norman, you know what you have to do," the vision of Norma (Vera Farmiga) told her son – and the camera cut to Norman running in the rain toward the motel.
Back at his house, Norman told Norma that he remembers going to Miss Watson's house but blacked out the rest. The episode ended back at Miss Watson's house … where a puddle of blood led viewers to her body.
But Miss Watson's death and Norman's possible involvement wasn't the only drama happening in the finale. Norma's Abernathy/prostitution ring problem was solved when Sheriff Romero shot Abernathy dead at the docks. Knowing that Norma was hiding and watching the whole showdown, Romero told the Bates Motel owner that she could "go home now" and trust him.
Season 2 of "Bates Motel" will pick up during the summer, a time when White Pine Bay is overrun by tourists. The only problem is that the motel isn't overflowing with customers … thanks to the location of the new freeway bypass.
As Norma deals with her struggling motel, the whole family will also be dealing with Miss Watson's (or "B's") death. A photo released by Entertainment Weekly shows Norma, Norman and Dylan with grave faces as they attend the funeral for "poor Miss Watson." With her death set to be "present" at the start of season 2, viewers will be introduced to new character Nick (Michael O'Neill), the grieving father of Miss Watson, who wants to "exact revenge on the perp responsible" for her death.
And O'Neill's Nick won't be the only newcomer for season 2 of "Bates Motel." Fans will be meeting Christine, Norma's first female friend; George, Christine's divorcé brother and a potential love interest for Norma; Caleb, Norma's estranged brother who according to Norma used to sexually assault her; Zane, an "upper-level player" in Dylan's drug family; Cody, a party girl who befriends Norman; and Jodi, a "smart and sexy businesswoman and artist."
Besides new characters, viewers will also be brought to new locations. TV Guide reported in October that the A&E series would be bringing fans to the infamous fruit cellar this year. For those that are not familiar with "Psycho," the fruit cellar is where the body of Norman's stuffed mother was discovered.
Norman began to experiment with taxidermy in season 1 thanks to Emma's father, and the TV show will be incorporating the fruit cellar into the works as Norman's private taxidermy studio.
"It makes Norma utterly uncomfortable, as most mothers would be," Vera Farmiga said of the basement. And while Norman's Freddie Highmore teased "many creepy things," executive producer Carlton Cuse promised that Norman wouldn't be working on stuffing humans … "not yet" at least.
"We're taking baby steps," explained Cuse.
Will you be watching season 2 of "Bates Motel" when it premieres on March 31? Let us know in the comments section or send a tweet to @AmandaTVScoop.
Watch the trailers for season 2 of "Bates Motel" below:
© Copyright IBTimes 2023. All rights reserved.