'Bates Motel' Season 3 Spoilers: What Happened To Annika? Episode 3 Recap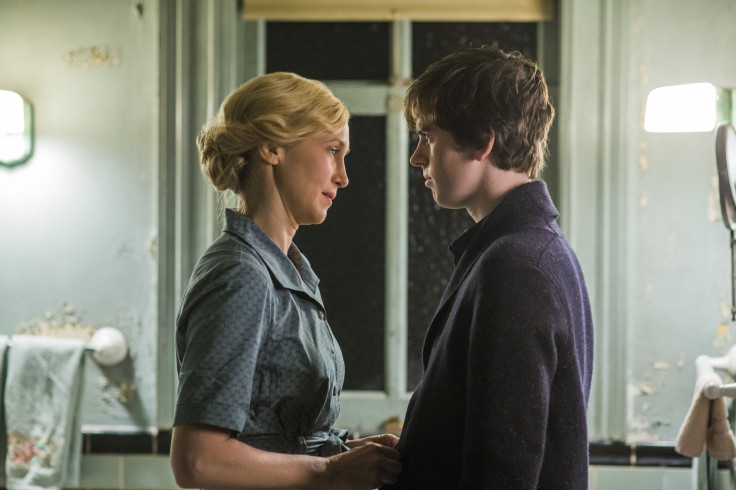 What happened to Annika (Tracy Spiridakos)? Last week's episode of "Bates Motel" focused on the mystery as Norma (Vera Farmiga) began to fear the worst about the motel guest. A hunt for the missing girl led Norma to the secret Arcanum Club, but that only resulted in more questions than answers. A body surfaced in the lake by the end of the episode, and this week it was identified.
Episode 3, titled "Persuasion," kicked off with Norma visiting the morgue to identify the woman found in the water. Worried that Norman (Freddie Highmore) was responsible for Annika's disappearance, Norma was happy to find that the mysterious woman was not her missing customer. And having that weight off her shoulders was necessary – especially since she was returning to school for marketing classes.
Norma's first day of school didn't go too well. She butted heads with the professor from the get-go, but fortunately it turned out that she was in the wrong class. However she couldn't escape the professor. He ran into her in the parking lot afterwards and apologized. But that wasn't all. He could sense that she had a troubled past – just like him – and handed her his business card.
Back at the hotel, Norma thought that she dodged a bullet because Annika didn't turn up dead, but unfortunately Sheriff Romero (Nestor Carbonell) still had questions about the disappearance. After he grilled the Arcanum Club president about any missing girls from his "sex party," Romero paid the Bates family a visit. He wanted to question Norman about the girl in the morgue and her possible connection to Annika. Norman cooperated with Romero's investigation, however, he wasn't happy with Norma afterwards. Norman overheard his mother tell Romero that he was the last person to see Annika, and he was offended that she was telling lies about him.
"I think one of us has a problem and I'm tired of the assumption being that it's me," he warned his mother.
Elsewhere, Caleb (Kenny Johnson) was continuing trying to bond with Dylan (Max Thieriot). He was helping Dylan and Gunner (Keenan Tracey) build a new building for the medical marijuana operation, and offered some cash in order to get it done properly. But while Dylan allowed Caleb to hide out at his place, he wasn't interested in taking any money from him. Unfortunately things got complicated when Emma (Olivia Cooke) showed up at Dylan's farm. She was there to drop off some plants that were delivered to the motel, and was shocked to find Norma's brother there. Although she was obviously disturbed, Olivia promised Dylan that she wouldn't tell Norma or Norman about Caleb.
Meanwhile, the police were finally able to identify the body in the lake. The woman turned out to be Lindsay, a high-end escort who raked in a whopping $10,000 a weekend. Romero still had no idea who killed her, and his problems only grew when a man named Marcus Young showed up at his office. Marcus revealed that he was running for Sheriff of White Pine Bay. But Romero told him not to get too comfortable with the area because he planned on keeping the position.
Episode 3 of "Bates Motel" concluded with Norman freaking out over Annika. Although he claimed that he didn't black out the night that he drove her into town, Norman was starting to believe that he was responsible for her disappearance and possible death.
Angry over his mother's accusations, Norman locked himself in the bathroom. It was while he was in there that he began to hallucinate his mother – the same hallucination that took credit for killing Miss Watson (Keegan Connor Tracy). She told him that he would "remember how he killed Annika" if he held his breathe under water in the bathtub. He listened and began to have flashbacks … but subsequently almost drowned. Norma had to knock the door down and pull him out of the water.
Norma got him into bed, and he began to question whether or not he committed a crime. But fortunately Norman wasn't responsible for Annika's death. When Norma went to lock up the motel, a car swung into the parking lot. Annika got out of the car and collapsed in Norman's arms. She shoved something into her hand and told her to "use it."
"Do something with it," Annika told Norma. "It's important. This is for you and your son."
Norma called 911 and told the operator that a woman with a gunshot wound was at the hotel. When she opened up her hand, "Bates Motel" viewers discovered that Annika had handed her a bloody USB drive.
© Copyright IBTimes 2023. All rights reserved.