'Bates Motel' Season 3 Spoilers: What Is The Arcanum Club? Annika's Disappearance Linked To New Secret In Episode 2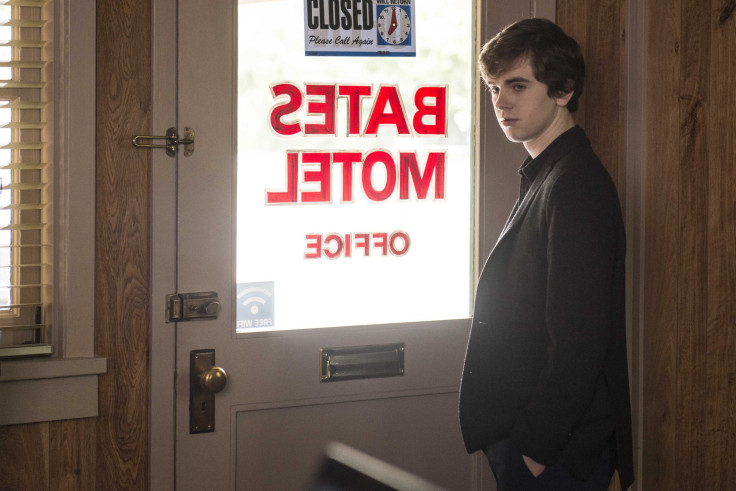 Did Norman Bates (Freddie Highmore) strike again? All signs seem to be pointing toward yes on Season 3 of "Bates Motel."
A&E's prequel to Alfred Hitchcock's "Psycho" returned last week with a whole new set of problems for the Bates family. Norma (Vera Farmiga) was struggling with the lack of business at the motel, while Norman was forced to battle inner demons that sprung up after the death of his teacher, Miss Watson (Keegan Connor Tracy). The drama escalated in episode 2 when the motel's only client, Annika Johnson (Tracy Spiridakos), went missing … after last being seen with Norman.
Episode 2, titled "The Arcanum Club," kicked off with nosy Norma discovering that Annika never returned to her room -- despite her car in the parking lot. She questioned Norman, who denied seeing her the night before. However, Norman's secret didn't stay hidden for long. Emma (Olivia Cooke) spilled the beans to Norma that her son drove Annika into town the night before -- and Norma was NOT happy that Norman lied to her.
He explained that he was simply helping Annika out and that she asked him to drive her car home because she was going to be drinking with a friend. But that wasn't a good enough excuse for Norma. She berated him for getting into cars with "questionable women" who were "slutty, oversexed and crazy."
"Look what happened with Blaire Watson?" she yelled at Norman. "Unhinged women seem to be drawn to you."
Norma was livid with Norman, especially because she couldn't explain to him that he had something dark buried inside him. But one thing did make her happy -- learning that he was dating Emma.
With Norman distracted by Annika's disappearance, Norma took the opportunity to search the missing woman's room with Emma. They discovered some of her naughty work gear, and a mysterious invitation to the "Arcanum Club." Norma had never heard of it, but Emma revealed that it was an old school, exclusive hunting club.
Meanwhile, after three months of living at the motel, Sheriff Romero (Nestor Carbonell) revealed to Norma that he was finally moving out. Although she didn't want to accept his money, he encouraged her to take it because construction was underway on the bypass. They shared an awkward hug and Norma told him that she always felt safe when he was around … but that changed later.
Norma snuck into the Arcanum Club to search for Annika and discovered that the only women there were "working." Romero caught her peering into a window and warned her that she was in danger by being there. But Norma was appalled that Romero was involved in the club. After he explained that he was there on strict sheriff duties, Norma came clean about Annika's disappearance.
"Norman was the last person who saw her," she told him. "He drove into town with her … and I haven't seen her since."
Romero promised he'd look into it, and forced her to leave before anyone saw her.
Elsewhere, Dylan (Max Thieriot) was stuck dealing with his dad, who just wouldn't take the hint about leaving. Fortunately Caleb's (Kenny Johnson) presence worked in Dylan's favor. When a dog attacked Gunner's (Keenan Tracey) dog, Caleb quickly shot it. The bad news was that the owner of the dog that Caleb shot, Chick (Ryan Hurst), showed up at Dylan's cabin the next day. But Caleb quickly figured out that Chick wasn't looking for a dog -- he was scoping out their operation.
Dylan wasn't looking for any trouble, but Caleb wasn't going to let Chick walk onto their turf. Later that night they paid him a visit and Chick quickly set ground rules to determine a level of "respect."
"If we all understand the rules then we can coexist," he explained. Dylan agreed, but Caleb wasn't willing to play nice. He told him that they were going to do whatever they wanted on their property.
Episode 2 of "Bates Motel" ended with Norma leaving the Arcanum Club party and running over a sign for the bypass with her car. When she arrived home, Norman confronted her about her odd behavior over the past two years -- something that shocked Norma because she was feeling the same about Norman. They walked into the house together, but their world was about to crumble. The final moments of the episode exposed a woman's body in the water.
© Copyright IBTimes 2023. All rights reserved.