Bayern Munich vs. Borussia Dortmund 2015: TV Channel, Live Stream Info, Kickoff Time For DFB-Pokal Semifinal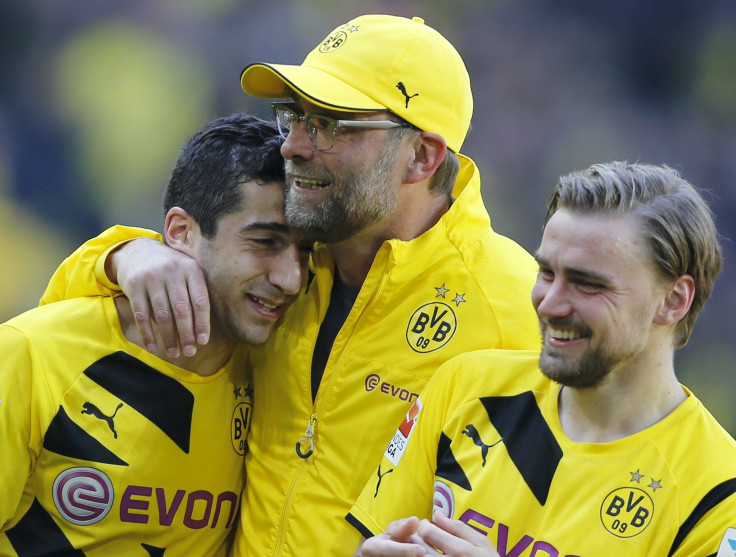 There will be something of an "end of an era" feel when Bayern Munich host Borussia Dortmund in Tuesday's DFB-Pokal semifinal. Jürgen Klopp, though, is in no mood for celebration. The last four matchups of Germany's domestic cup competition will be Klopp's final match in charge for Dortmund against the team which he sensationally conquered but to which he has in many ways ultimately had to cede defeat.
Klopp will step away this summer from a team he revitalized upon taking over seven years ago, overcoming the Bayern behemoth and winning back-to-back Bundesliga titles between 2010 and 2012. Perhaps the high point of that team, based around ferocious counter-pressing, or "gegenpressing," came in the final of the DFB-Pokal in 2012 when Dortmund brilliantly tore Bayern apart to win 5-2.
The following season they reached the final of the Champions League, but the realities of competing against Germany's powerhouse club were already starting to hit home. Dortmund lost not only the final at Wembley, to a club which had adopted key elements of Dortmund's style, but by that point they already knew their homegrown star Mario Gotze had been snatched away by Bayern. After a season in which they trailed the Bavarians by 19 points in the Bundesliga and were beaten by them in the DFB-Pokal final, Dortmund lost their hugely influential striker Robert Lewandowski to their great rivals last summer, too.
This season there has not even be a rivalry. Dortmund were for a long time stunningly mired in the relegation zone, before a revival provided them a chance of claiming a small consolation of a Europa League place. However, they are a massive 37 points behind a Bayern team that sealed its third consecutive title on Sunday.
Bayern are not the sole reason for Dortmund's collapse or for Klopp's departure, but attempting to battle against the tide in an age of the super clubs has certainly taken its toll. Klopp's competitive spirit, though, remains undiminished, which explains why he won't be accepting the offer of flowers from Bayern ahead of Tuesday's final Klassiker with him at the helm.
"The flowers are a nice gesture but on Tuesday we want to run riot," he told reporters after Dortmund beat Eintracht Frankfurt 2-0 on Saturday. "We don't want to be softened by flowers."
The 2012 final was Dortmund's sixth consecutive victory over their rivals, but since then Bayern have been on top. While Dortmund won in the German Super Cup last August, Bayern have triumphed in both Bundesliga fixtures this season. Yet Klopp remains optimistic over his side's chances in a match he sees as a final in all but name.
"This is the hurdle that we have got to overcome to get to the final," he said in his pre-match press conference, according to Borussia Dortmund's official website. "Now we have to face the number one opponent. Now it is the semi-final. Now we have to play away from home. Bayern won't do you any favours. But we have won there before, we need to give a top performance and be right there where it matters right from the start. This is a final. There is no way you can avoid the intensity of this game."
Bayern, too, of course have much on the line. After wrapping up the Bundesliga crown, courtesy of their victory over Hertha Berlin on Saturday and second-placed Wolfsburg's defeat to Borussia Mönchengladbach the following day, Pep Guardiola's side have a treble in their sights. Next week, Guardiola will take his team back to his former club Barcelona for the first leg of their Champions League semifinal.
And there is some positive news for Bayern ahead of what could be a glorious end to the season. Javi Martínez is back in contention for the first time since rupturing his cruciate ligament in last August's Super Cup, while defender Mehdi Benatia and Arjen Robben have also returned to training after injury. And Guardiola hinted that the Dutch winger could play some part on Tuesday.
"We need him," he said, reports Bayern Munich's official website. "We've not had a player for the one-on-one situations recently. Arjen isn't a super-sub. If he's fit, he plays. But let's not forget he's been injured for five weeks."
Kickoff time: 2:30 p.m. EDT
TV channel: ESPN Deportes
Live stream: ESPN3
© Copyright IBTimes 2023. All rights reserved.