B.B. King Is Dead: 'King Of The Blues' Legend Dies Aged 89 In Las Vegas; Twitter Floods With Tributes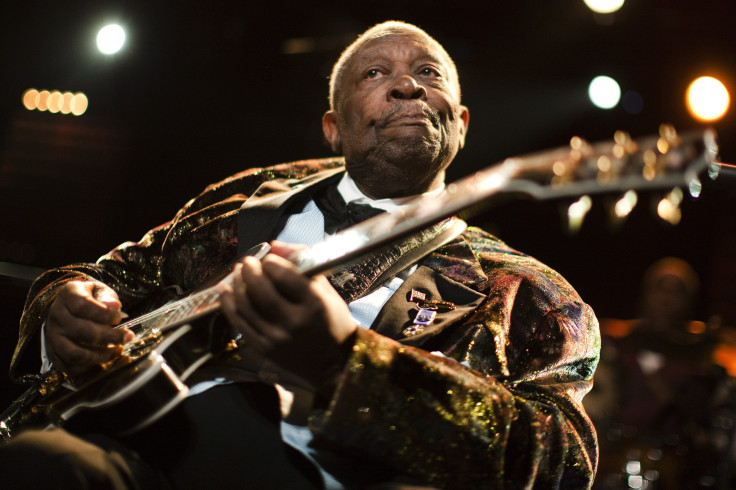 Blues legend B.B. King died late Thursday at his home in Las Vegas after suffering from heath issues for the past year, his attorney told the Associated Press. The 89-year-old, nicknamed the "King of the Blues," battled diabetes for more than two decades and had been in hospice care at his home.
King's attorney Brent Bryson reportedly said that the 15-time Grammy Award winner died peacefully in his sleep, adding that his family is preparing for the funeral. King canceled the final shows of his 2014 tour last October after he collapsed during a concert in Chicago. The legendary musician, who had a unique style, used to play a Gibson guitar he affectionately named "Lucille."
King, who was born in Mississippi as Riley B. King, was popularly known for his song, "The Thrill is Gone." He was inducted into the Blues Foundation Hall of Fame in 1984 and the Rock and Roll Hall of Fame in 1987.
"Sometimes I just think that there are more things to be said, to make the audience understand what I'm trying to do more," King told the AP in 2006. "When I'm singing, I don't want you to just hear the melody. I want you to relive the story, because most of the songs have pretty good storytelling."
During his long career, which began with his first single in 1949, King released 50 albums.
On Monday, a dispute over his wealth was dismissed by a U.S. judge, who said there was no evidence that King was being abused, leaving his longtime manager Laverne Toney in control of his affairs. Three of King's children accused Toney of stealing money and neglecting their father's medical needs. His children -- Karen Williams, Rita Washington and Patty King -- claimed that Toney blocked them from meeting King.
King, who was married twice, is survived by 11 children.
Here are some tweets from celebrities paying tribute to the legend.
© Copyright IBTimes 2023. All rights reserved.